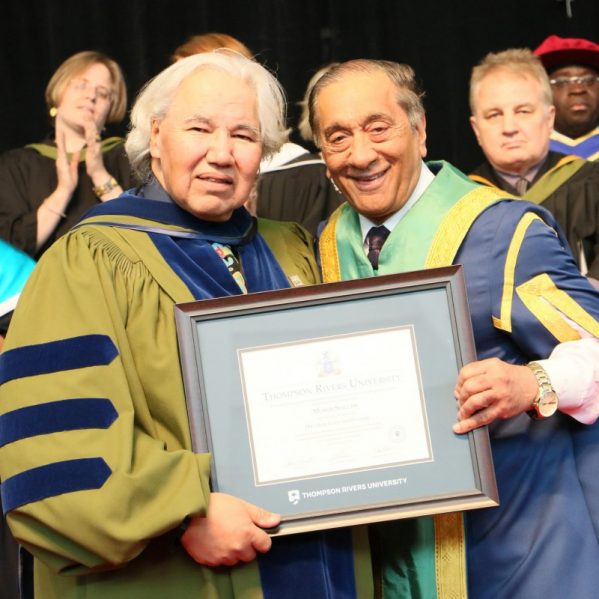 Smiles, cheers and applause were abundant as the fourth class of TRU Law crossed the stage on Friday, June 9. One hundred grads received their Juris Doctor credential, having their degrees conferred upon them by TRU Chancellor Wally Oppal, QC. The total number of TRU Law grads now approaches 350.
View the law convocation Flickr album here. 
Honorary degree recipient Senator Murray Sinclair treated the crowd to a moving speech, drawing on his experiences as an Aboriginal person and as Chief Commissioner of the Truth and Reconciliation Commission.
Watch the honorary doctorate and valedictorian speeches here. 
Watch a recording of the entire convocation proceeding here.
"I only wanted to understand why I did not know the laws of my people; I wanted to know why Canada did not know the laws of my people too. I wanted to know why, and I wanted to know what I could do about it," said Sinclair, referring to the reason he pursued a career in law.
Meanwhile, valedictorian Eli Zbar received a standing ovation for his remarks to his fellow classmates, in which he likened the young law school and its pupils to the emerging wine industry in Kamloops.
"Kamloops wineries must compete with older, more established wineries only a few hours away. Kamloops wine is young, but it punches above its weight."
Here's a rundown of the spring TRU Law award recipients:
Senator Murray Sinclair – Honorary Degree recipient, Doctor of Laws, honoris causa
Senator Murray Sinclair is an Ojibway-Canadian judge and First Nations lawyer, well-regarded for his stature in the legal field. He was appointed to the Canadian Senate in March of 2016. In his accomplished career, he has helped lead some of the most significant inquiries of our nation, resulting in deep and profound changes in national policies as well as collective perspectives of our Canadian history in regards to Aboriginal peoples.
Sinclair grew up in the Selkirk area north of Winnipeg, Manitoba. He majored in sociology at the University of Winnipeg, and went on to study law at the University of Manitoba, graduating in 1979. Called to the Manitoba bar in 1980, he practiced civil and criminal litigation, human rights law and Aboriginal law.
The province's first Aboriginal judge, and the second in Canada, Sinclair was Associate Chief Judge of the Provincial Court of Manitoba from 1988 to 2001. During this time, he was appointed co-commissioner of Manitoba's ground-breaking Public Inquiry into the Administration of Justice and Aboriginal People. Otherwise known as the Aboriginal Justice Inquiry, it is still regarded as the most important investigation into the administration of justice and its impact upon First Nations and Métis peoples in Canada. In 2000, his report as co-chair of an inquest into the deaths of children at the Winnipeg Health Sciences Centre led to significant changes in pediatric cardiac surgery in Manitoba and the study of medical error in Canada. From 2001 until his appointment to the Senate, he sat on the Court of Queen's Bench of Manitoba.
Sinclair was appointed Chief Commissioner for the Indian Residential Schools Truth and Reconciliation Commission (TRC) in 2009. The TRC was a massive undertaking, lasting seven years from its inception to the final report and its 94 Calls to Action, published in 2016. With Sinclair's leadership, the TRC has documented the truth of survivors, families and communities, and has provided Canadians with a better understanding of what happened in residential schools and a clearer path toward reconciliation.
In recognition of his work in Aboriginal justice, Sinclair has received over 10 honorary degrees, a National Aboriginal Achievement Award (now the Indspire Awards) in 1994, and received the Canada World Peace Award from the World Federalist Movement-Canada in 2016. In March of 2017, he received the Lifetime Achievement Award from Indspire. Senator Murray Sinclair's commitment to reconciliation and strengthened relations among all Canadians represents the intercultural understanding Thompson Rivers University aims to foster in its students.
Law Society of British Columbia Gold Medal – Simon Meijers
Simon Meijers chose law because he wanted a career that would be interesting and continually present new challenges and opportunities. During his studies, he enjoyed the practical aspect of learning about the law, participating in the 2016 Wilson Moot and the 2017 MacIntyre Cup Moots. He was also an editor of the Canadian Journal of Comparative and Contemporary Law in 2016-2017.
Simon's achievements led him to receive several awards, including the Shaver Scholarship, the TRU Law Second Year Scholarship and numerous course prizes. In September, he will begin clerking at the British Columbia Supreme Court in New Westminster, and following that, he will be articling with the Department of Justice in Vancouver.
Valedictorian – Eli Zbar

Eli is the first valedictorian of TRU Law. His passion for working with people led him to choose law school, as the practice of law is fundamentally about helping people. Eli was the first TRU Law student to conduct a self-directed qualitative research project. This research focused on improving student training in the Clinical Legal Education program.
Eli received the Dean's Course Prize for Clinical Practice in Winter 2016 and the 2017 Law Foundation of BC Public Interest Law scholarship. He is looking forward to starting his career as a lawyer in downtown Vancouver and pursuing graduate level legal studies.