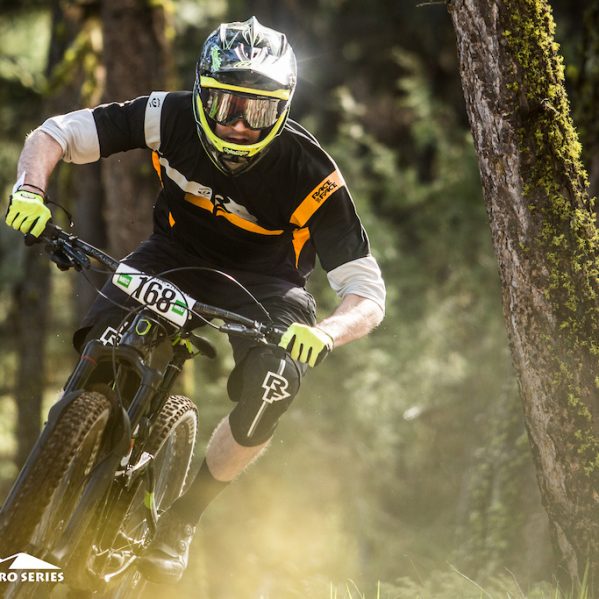 Six years ago Ted Morton traded his motor bike for a mountain bike when he moved cross-country to complete his Bachelor of Tourism Management (BTM), major in adventure studies. Today, he owns and operates the BC Enduro Series and Canadian National Enduro Championship, Canada's only enduro mountain bike race series.
The 2013 alumnus was a competitive motocross racer before falling in love with mountain biking during his time as an undergrad. An outdoor enthusiast, Morton laddered into the BTM program from Algonquin College's Outdoor Adventure Diploma program.
Algonquin College in Ottawa has an articulation agreement with TRU enabling students to use their college diploma credits towards the completion of their BTM degree. When he heard about the program at TRU, he jumped at the opportunity to move out West.
During his time at TRU, he was introduced to the sport of competitive mountain biking and quickly became immersed in the culture and the lifestyle. He wrote his final undergrad research paper on mountain bike culture and community development.
"One of my fondest memories of Ted was his presentation in our grad seminar. He began the presentation with footage of people riding mountain bikes and doing tricks. He then proceeded to teach us how Kamloops is the birthplace of freestyle mountain-biking. Students were amazed to know that our little city had such a distinction as part of its outdoorsy heritage and that people come from all over the world to freeride here," said Kellee Caton, tourism faculty member.
"Given Ted's initiative on his graduating project, I had no doubt that he would put his ideas into action and contribute to our community and to enhancing the rich recreational opportunities Kamloops has to offer," continued Caton.
After graduation Morton got hired at SunPeaks Resort as an event coordinator and that's when he discovered the BC Enduro Series. He inquired and became the first paid employee to work for the series as the race director and after a few years learning the ropes, took ownership in 2016.
"The knowledge I gained from my courses at TRU was extremely valuable. Land use management is easily the most important course I ever took. The course is theory heavy, so I don't think students realize the value of it, but it's extremely useful," said Morton.
"The quality of the faculty in the Tourism program is invaluable, they are literally the pioneers of adventure tourism. When you walk in the doors at TRU, you literally start your career that day," he said.
Morton credits the program and the networks he made for much of his success, adding that courses like risk management and event management with Billy Collins were integral in preparing him for the work he does now.
"As a student there is so much to take away from this program. The skills you gain are relevant, practical and give you the ability to create your own unique career path," said Morton.
The 2017 season will take Morton around BC, showcasing some of the most beautiful trails anywhere in the world. As he continues to expand and create more opportunities within the sport, he also founded the Canadian National Enduro Series and spearheaded the first helicopter assisted enduro event in North America, which takes place in Revelstoke, BC.
"This job is about providing an authentic, one-of-a-kind experiences for people and providing a platform to showcase  these amazing cities in BC and the hard work of the volunteers and communities that manage the trails," said Morton.
"It's definitely not about the money, but about the lifestyle—I get to ride my bike everyday and do what I love, it's pretty amazing."