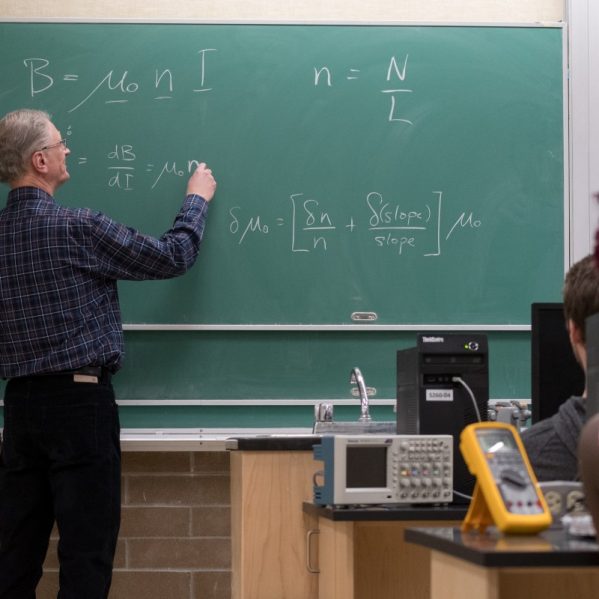 The CEO of Canada's hottest startup is staking his company's future on a locale that fosters innovation, supports tech and has a readily available skill pool.
For Daniel Rink of iTel Networks, receiving the Startup Canada award for High Growth Entrepreneurship was made possible in part by employees he's recruited from TRU's computer science programs.
Now the local tech sector is about to get even hotter. Premier Christy Clark gave the green light to 1,000 new tech seats throughout BC at the #BCTECH Summit in March, and TRU is poised to fill this need with new Bachelor of Engineering (BEng) and Master of Engineering programs. The proposed programs will allow Rink and the growing number of innovators in the region to play a pivotal role in building and shaping British Columbia and beyond for decades to come.
The BEng will offer specializations in electrical, software and computer engineering—professions that will be in high demand in the region and across the country through 2020 according to projections by Engineers Canada and the Centre for Spatial Economics in 2015.
"The BC Tech Sector is on the rise and in keeping with this trend, TRU has done a great job of seeing a need and addressing the opportunity to educate skilled tech professionals in Kamloops," says Rink.
"Over the past several years, we have seen a real shift toward technology in the region. The support from TRU and the provincial government will help the local startup community continue to take off and secure Kamloops as a future tech-hub."
TRU's Chair of Engineering Faheem Ahmed sees the programs as a catalyst for economic and population growth.
"There will be an impact on the economy of the region once we have the skilled labour," says Ahmed. "This could attract tech companies here, because the operational costs are less than they are in larger cities."
The proposed BEng builds on TRU's current two-year engineering transfer program to the University of Victoria, which currently offers 60 first-year seats and 20 second-year seats and receives three applications for each available seat. Years one through three of the BEng could begin as early as fall 2017 with fourth year starting in fall 2018. Space is earmarked in the university's new Industrial Training and Technology Centre opening in 2018.
Tom Dickinson the dean of science and Christopher Seguin, vice-president of advancement with CBC's Kamloops Daybreak on the topic.