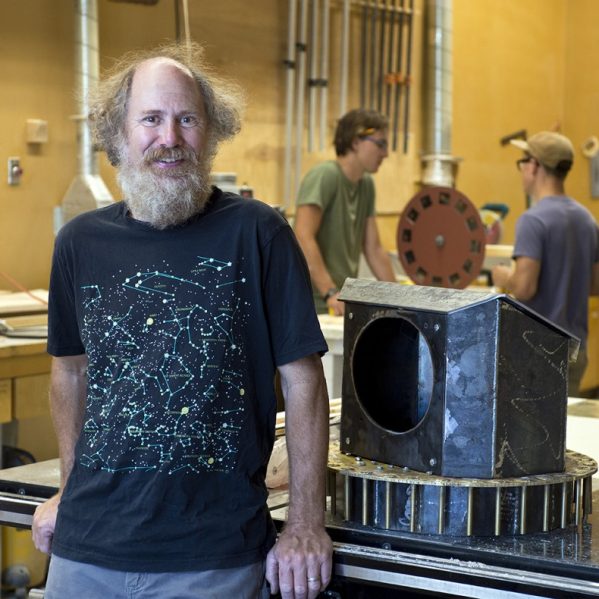 What does it take to be an exceptional undergraduate research mentor?
TRU's Donald Lawrence sets the standard, and as a result, is the recipient of the 2017 Undergraduate Research Mentor Award.
The award celebrates faculty members who actively help students explore, inquire and engage in new knowledge creation by providing meaningful guidance and support. Lawrence embodies these ideals, a fact clearly communicated by those who nominated them for the distinction.
Glowing accolades poured in for Donald Lawrence, who has been an advocate and mentor to students throughout his 28 years at TRU.
"What makes him a legendary mentor isn't simply that he makes time, but that he seems genuinely happy to do so. That he can be attentive and make each mentored student feel considered, not simply because they are in front of him, but because he genuinely cares," wrote Lea Bucknell, Visual Arts Studio Technician, and TRU alumna.
"Don's door has always remained open in our department, and he has opened countless more for me. I do not believe I can truly articulate how much he has influenced my education and personal life," wrote Undergraduate Research Ambassador Levi Glass.
"Don's unequivocal advocacy for research in visual arts was what first inspired me to pursue research in a field not typically associated with the term … Don changed the way that myself and other students perceive research," wrote Bachelor of Fine Arts student Garnet Dirksen.
While Lawrence said he's pleased to receive the award, he noted that while his goal is to provide students with opportunities to gain enhanced physical, technical and conceptual skills that are part of art-making, the same students bring an added richness to his own research projects.
"They have a way of bringing themselves into the projects — they're far more hip  to emerging cultural trends than I am — and they are essential in engaging younger audiences."