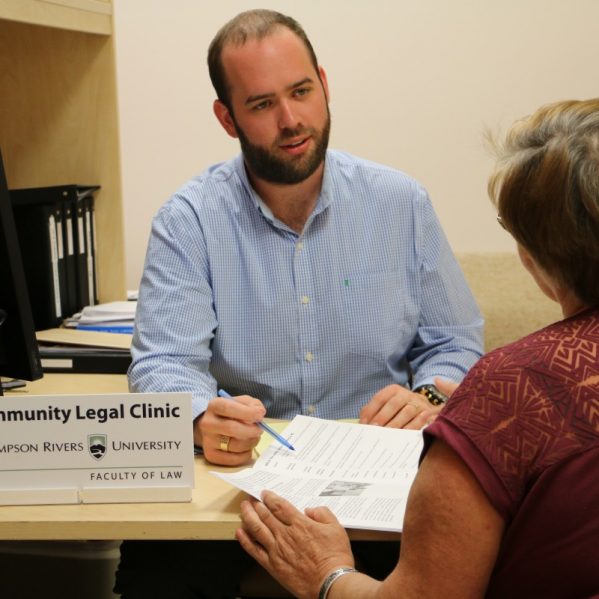 Before James Billings* visited the Thompson Rivers University Community Legal Clinic (TRU CLC) in the summer of 2016, his living conditions were precarious.
"James' landlord was not maintaining his suite properly. He was living in unsafe conditions and, more importantly, the landlord was wrongfully trying to evict him," said Ted Murray, the supervising lawyer at the legal clinic.
The TRU CLC, launched in April 2016, was established to provide free legal services for low-income populations in the Kamloops region.
Funded primarily by the Law Foundation of British Columbia and TRU, the clinic benefits from a close relationship between TRU Law and the Centre for Seniors Information (CSI), where it is located.
"We were able to help remedy James' situation by taking action against the landlord. We filed an application for dispute resolution with the Residential Tenancy Branch, which led to an order cancelling the Notice to End Tenancy, ensuring James didn't lose his home."
Murray is describing the nature of the work conducted by his "employees"—TRU law students who after studying community lawyering, can apply to work at the clinic, earning academic credits while working with real clients.
"If clients meet the financial eligibility requirements, and their issue falls within an area of law the clinic is allowed to operate in and is not too complex, then we can provide them with legal services up to and including representation before tribunals such as the Residential Tenancy Branch," explained Murray.
"At the very least, we try to give every client who comes to see us some helpful summary advice, even if we aren't able to provide them with representation."
He notes that residential tenancy and housing issues—such as concerns arising from individuals living in condos, mobile homes, seniors residences and assisted living facilities—are a primary focus of the clinic. 
Students conduct client interviews and legal research, draft memos and advise the client, all under Murray's supervision, allowing them to gain essential skills outside the classroom.
"Three years of law courses taught me the theory, but working at the clinic prepared me for actually dealing with real clients—who were sometimes upset—and doing client interviews. I also frequently drafted legal documents," said Dawn McConnell, a third-year student from Campbell River.
"These are all now things I've done numerous times throughout the last four months and I feel much more prepared for 'real-life lawyering' than I did before working in the clinic," she said, adding that she looks forward to settling down in Kamloops and to her articles at local firm Fulton and Company.
As for the clinic's impact, Murray explains how the students' experience serving the community addresses a broader social concern.
"The program enables students to use the law as a tool for social justice, improving citizens' access to the justice system. This is important because it supports the legal needs of those who would otherwise be unable to afford legal assistance."
As of spring 2017, the TRU CLC assisted over 200 clients. Discussions for a second location near the university are underway, which will also see student positions nearly double from six to 10 or 12 per semester.
Common legal issues the TRU CLC can help with:

Residential tenancy
Employment standards
Small claims (civil claims under $25,000 only)
Human rights claims
Simple wills where the estate is worth less than $25,000 and does not contain real property
*This account is based on a compilation of files. This name and certain details have been changed to maintain client confidentiality.