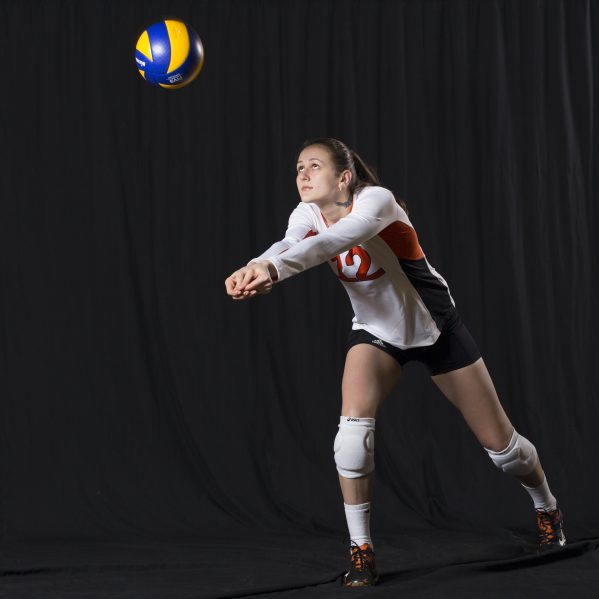 Iuliia Pakhomenko is the most decorated female athlete to ever wear a WolfPack uniform, but the Ukrainian volleyball standout has a story even greater than her stat line.
The first and only female athlete at TRU to win the Canadian Interuniversity Sport (CIS) Player of the Year, was also named a CIS all-Canadian twice, Canada West MVP and first-team conference all-star—all while completing a Master of Business Administration.
While her accomplishments are many, setting records in nearly every category, the barriers she had to overcome would be insurmountable for most.
The 6-foot-3 outside hitter, born and raised in the Ukrainian city of Druzhkovka, left her home to play volleyball at Northwood University in Michigan before coming to TRU in 2014—a time when her country and the family she left behind were facing extreme turmoil.
"I didn't know anyone here. I honestly thought, I'm not going to make it," says Pakhomenko.
Shortly after arriving in Canada, hostilities reached a boiling point and her family decided to leave their homeland to seek safety in Russia. Pakhomenko was unable to contact her asylum-seeking family, knowing thousands had already been killed in the fighting.
"It was a really tough time for me. I had just come to Canada and I didn't know anyone who I could share this information with."
After finding out her family had found safety in Russia, Pakhomenko took the CIS by storm, becoming the driving force behind the WolfPack women's volleyball program for the next three years.
"Here, I have the opportunity to have a better life, to be a successful person, a happy person," she says. "I'm honoured and I'm happy, and this has been one of the best experiences of my life."
Pakhomenko took to the classroom with the same tenacity as the court. Despite a hectic schedule, completing her MBA has always been her number one priority.
"School is always first," says Pakhomenko, when she was asked about balancing school and sport. "Knowledge will stay with you for the rest of your life. Volleyball gave me a ticket to a better life. If I wasn't playing this game I would never get my MBA and see the world."
Pakhomenko recently got married and will graduate from the MBA program in April 2017.
"I'm happy where I am right now," says Pakhomenko. After her graduation, she plans to pursue her professional volleyball career.