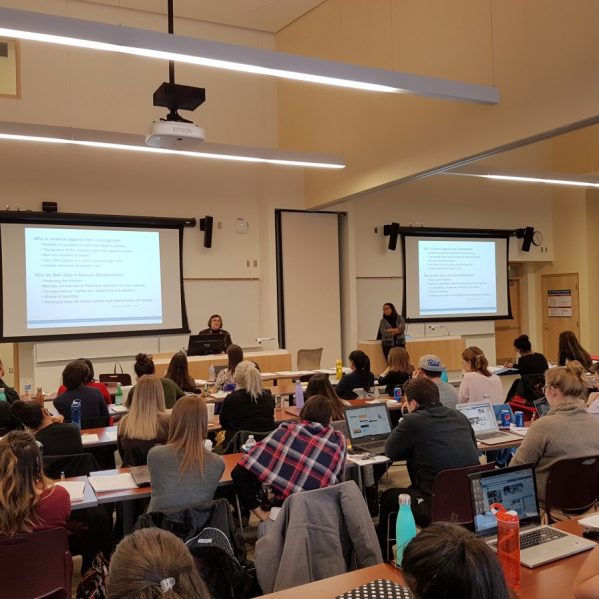 Sixty TRU Law students recently received some extracurricular training in family violence screening, learning about the characteristics of family violence and the potential impact on clients and their cases.
A one-day family violence screening course was held at TRU Law on Saturday, March 11. Students were keen to add these additional skills to their repertoire.
"The workshop combined theory and practical skills; for example we discussed that psychological abuse is harder to identify in clients. We learned to build rapport with the client and discuss safety planning with them," said Sunny Chiu, a second-year student from Vancouver who attended the workshop.
The workshop was unique because while it is available through the Continuing Legal Education Society of BC (CLEBC), it was delivered exclusively to a group of law students at TRU.
"I'm so glad to receive this training as a student. This summer I am going to be working for MacLean Law, a family law firm in Vancouver, and I can now apply these skills during my time there and in the future," said Chiu.
Third-year student Emily Raven spearheaded the event, inspired by her articling principal, mediator Carol Hickman, QC, of West Coast ADR in New Westminster, BC.
"The BC Coroner's office screens for signs of domestic violence in every file involving the review of a homicide if the victim is female. However, if a woman attends at a lawyer's office to transfer her property to her husband, few questions are asked," Raven explained.
"Why is that? It's important for us as future lawyers to understand how power imbalances may be at play. By screening for family violence, legal professionals can make a difference in the lives of people who experience abuse at the hands of intimate partners," she said.
Raven brought her idea to the student-led Women in Law Club, and she and co-organizer Brianna Meyer set about facilitating the event.
"We were both interested in the sexual violence policy consultations happening (at the post-secondary level)," said Meyer, who will be articling at the BC Ministry of Justice Legal Services Branch in Victoria, BC.
"That's how the conversation started. There is talk in Canada that this course should be mandatory for everyone in the legal profession. We thought, why not students too?"
With support from TRU Law to cover costs, the pair brought Hickman—Raven's principal who is also a certified family violence screening trainer—to Kamloops, to lead the workshop.
They also had a little help from Raven's mom, too—Judge Rose Raven of the BC Provincial Court, that is. Recognizing the usefulness of the course, the senior Raven offered to assist Hickman with delivering the course to her daughter's classmates.
An added advantage for students was the cost savings. Through CLEBC, the course costs approximately $1000, while the students were only charged five dollars.
With Raven and Meyer graduating this spring, they hope they've laid some groundwork for the event to continue next year with new organizers.
"We wanted to see what the interest was for this. We sold out the event to 60 students in about an hour. So next year I think it would be a no-brainer," said Meyer.