Please help us! As members of the new TRU Student Sustainability Ambassador Program (SSAP; coordinated by the TRU Sustainability Office), we'd like your help to do two simple things for this event.
The SSAP is organizing TRU Earth Hour Day March 29 from 8am to 6pm to bring awareness to the vital issue of energy conservation. Since the real Earth Hour is Saturday March 25, (https://www.earthhour.org/), we wanted to do something mid-week so that more students could participate.
1. On March 29 between 8am and 6 pm please turn off all–or as many as possible–of the following electronic devices at school and home:
Lights
Computers, monitors, laptops, tablets, cell phones
Projection screens
TVs, stereos, radios
Kitchen appliances & Other electronics
2. Take two minutes and enter a free contest – open to all TRU students, faculty and staff!
To enter the contest, participants need only email (sustain@tru.ca) a one or two sentence answer to the question 'Why is energy conservation important to me?'. Submissions will be entered into a draw to win one of three prizes (shown below): a solar-powered oven, a solar-charged battery for cell phones, or a box of Power Bars.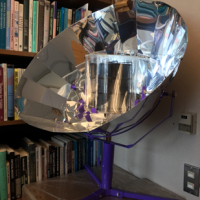 Finally, if you can't get involved March 29 but want to participate or have any questions please email us at srae.mclean@gmail.com.
Thanks for helping out!
Shawna-Rae McLean and Aaron Mann
TRU Student Sustainability Ambassadors