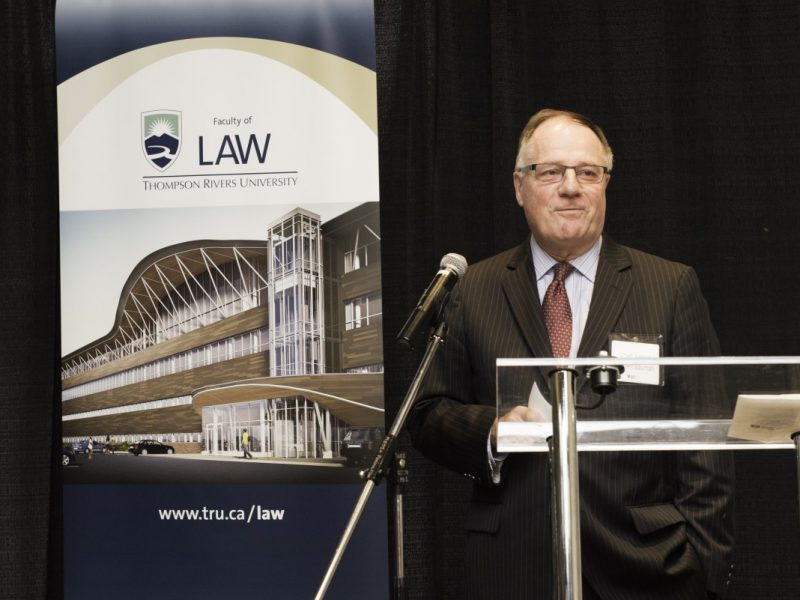 There were smiles, handshakes and applause all around as law students were recognized at the annual TRU Law spring awards ceremony on Thursday. Students received the accolades for achievements in the fall semester.
Eleven students received awards totaling $35,700 (the annual total including awards from the fall ceremony is $125,000). Meanwhile, 29 students also took home Dean's Course Prizes.
Third-year student Eli Zbar, who was one of four recipients of the Law Foundation Public Interest Award, says he was thrilled to receive the news that he won the award, saying it put the 'sweet' in bittersweet at the end of his law school journey. He says the award represents much more than money.
"It serves as a reminder that working in the public interest is a key facet of my professional responsibilities as I start my career," said Zbar.
After the ceremony, students also had the opportunity to rub shoulders with several distinguished guests including Chief Justice Robert Bauman (Chief Justice of British Columbia and Chief Justice of the Court of Appeal for the Yukon), Madame Justice Daphne Smith of the BC Court of Appeal; Wayne Robertson, QC, Executive Director of the Law Foundation of BC and Judge Terry Shupe (retired from the BC Provincial Court), who were all in attendance to help present some of the awards.
Other special guests and donors who participated in the ceremony included TRU President and Vice-Chancellor Alan Shaver; Dr. Don Andrews, a veteran Kamloops lawyer who sat on the advisory committee to establish TRU Law; TRU Law Judge-in-Residence Justice Richard Blair (Ret.); John Sparks, TRU General Counsel; BC Supreme Court Master Rob McDiarmid; David Paul, QC; Dennis Hori, QC; Ken Walker, QC; Alyson Oxtoby, Chair of the Okanagan Chapter of STEP Canada and Terry Taylor from ScotiaBank.
Dean Brad Morse says supporting student awards remains a top priority for the faculty.
"Our goal over the next five years is to ensure that every Dean's Prize has a monetary award and that we build our annual award disbursement to $500,000."
The all-law student acapella singing group, the Lawcapellants, capped off the evening with a performance of a Disney Medley.
2017 TRU Law spring award recipients:
Wills and Estates Prize: Christine Purewal
Kamloops Bar Association Memorial Bursary in Law: James Mason
Scotiabank Course Prize – Business Associations: Dusan Despot
Dean's Discretionary Award – Don Andrews Law Endowment Fund: Deanna Fedio
BC Prosecution Services Bursary: Kyle Sandulescu
Law Foundation Entrance Award: Barneet Numdi
Law Foundation Public Interest Award: Brianna Meyer, Meagan Kuiper, Eli Zbar, Kassia Trottier
Superior Court Judiciary Bursary: Joseph Iwanicki