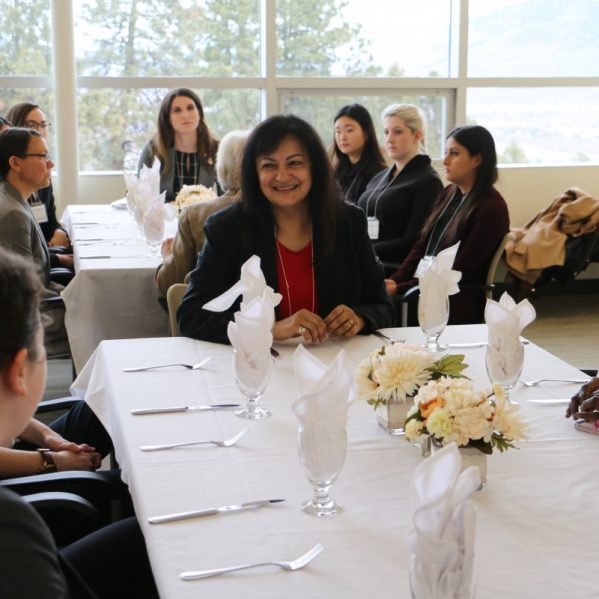 24 female law students had the opportunity to hear from some experienced women in the judiciary this week.
An Evening with Women Judges on Wednesday March 15 brought the groups together as part of an initiative spearheaded by the Canadian Chapter of the International Association of Women Judges (CC-IAWJ). There was much chatter and laughter as the women engaged in conversation, with the sharp-dressed students paying keen attention to their professional counterparts.
"This event allows students to interact with judges in a smaller setting. It's like speed-dating. The judges talk about their career paths and then open it up for questions," said BC Provincial Court Judge Shehni Dossa, the key organizing judge.
"It was a great opportunity to be able to meet and talk with different women judges," said second-year student Jessie Olynyk. "Each walked a unique path to get where they are today and it was great to hear their experiences."
"A highlight for me was Justice Daphne Smith's take on articling and finding a job. She talked about how being in smaller regional centers (like Kamloops) can be equally beneficial for career advancement as being in larger urban centers, so to not be afraid to be adventurous,"said Olynyk.
The guest judges included Dossa as well as Kamloops-based judges Justice Daphne Smith (BC Court of Appeal), Justice Hope Hyslop (BC Supreme Court) and Judge Stella Frame (BC Provincial Court).
Alexis Kazanowski, Assistant Dean; Christi McAuley, Director of Career Services; and Nena Jocic-Andrejevic, Director of Development, also attended as TRU Law administrative representatives. A lone male, TRU Law Judge-in-Residence Justice Richard Blair (Ret.), was also invited.
"It is great to have these judges be accessible to the students," he said. "We didn't have that when I was a student. A judge friend of mind joked that we didn't have the chance to talk to a judge until we were one! The times have changed," he smiled.
The format had six students each at four tables, with each of the four judges rotating every 15 minutes.
"The informal setting really allowed for candid conversation, not just about issues facing women in the legal profession, but about the field in general," said Olynyk.
The event will be hosted at TRU every third year. CC-IAWJ hosted similar events at UBC and UVic law schools over the past two years. Currently, 10 law schools in Canada are participating in the initiative.