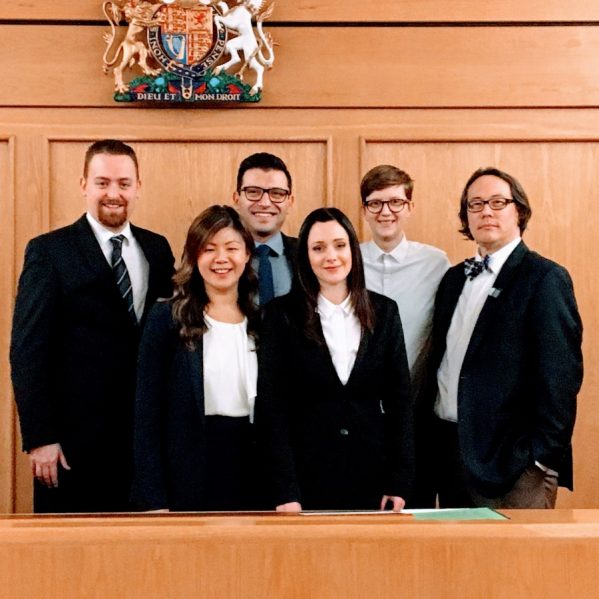 In a repeat of last year's finish, TRU Law placed second at the BC Law Schools Competitive Moot over the weekend. The annual competition sees teams from TRU, UBC and UVic compete in the appeal moot court, challenging their oral advocacy skills.
Each school is represented by two teams—a pair of appellants and a pair of respondents, as well as a researcher. The teams have been researching their moot problem and preparing for the competition since October.
"Our students performed remarkably well. The team put countless hours of preparation and practice into the moot and it showed," said Assistant Dean Alexis Kazanowski, who also acted at the moot's registrar.
While it is the fourth year TRU Law has competed in the BC Cup, it was their first time playing host, with the event being held at the Kamloops Courthouse on Feb. 18.
TRU Law's Grace McDonell, a second-year student from North Vancouver, was thrilled to participate, and a family connection gave the event extra special meaning for her.
"My dad actually started this moot with his UVic classmates in 1984. His name is on the trophy!" she exclaimed.
"It was really nice to have competed in front of him. The competition was a great experience. I'm incredibly proud to have been part of such an amazing team of bright individuals. I will never forget my moot experience, it's definitely going to be the highlight of law school," said McDonell.
"We could not have done it without the hard work contributed by every single one of us," said Annie Olson, a second-year student from Victoria, adding the practical nature of the moot provides students with great experience.
"I am interested in criminal law, mainly because I enjoy being in court, so that was my main reason for trying out (for the team)," said Olson.
Nine judges from BC Courts of Appeal and BC Supreme Courts attended from around the province, and TRU Law Dean Brad Morse noted he was very pleased with comments he heard from the judges about the caliber of TRU Law students.
Third-year student Grace Kim from Calgary, one of the appellants, says the judges' words were encouraging.
"My feedback from the judges was that I was very confident and were well prepared and researched very well, which was so nice to hear – especially from Chief Justice Hinkson," said Kim.
"The response from the judiciary was very positive," said Morse.
The TRU Law students who participated:
Appellants:
Callan MacKinlay, 3L
Grace Kim, 3L
Respondents:
Grace McDonell, 2L
Annie Olson, 2L
Researcher:
Milad Javdan, 3L
Three students also volunteered to act as court clerks:
Alejandra Henao (2L)
Devon O-Grady (2L)
Jesse Olynyk (2L)