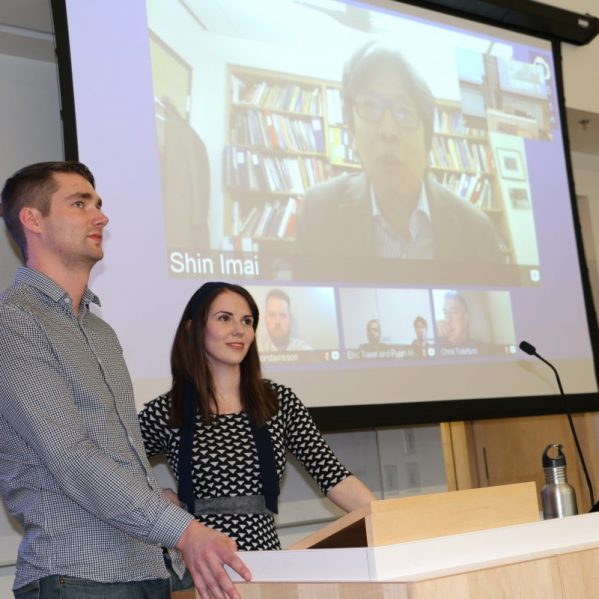 About a dozen TRU Law students united last week for a showcase of their work over the past few years with the Justice and Corporate Accountability Project (JCAP).
JCAP is a not-for profit organization co-founded by TRU Law Assistant Professor Charis Kamphuis.
"It's an initiative that connects law students across the country to organizations and communities concerned with resource extraction in Canada and abroad," said Kamphuis.
The group collaborates with civil society organizations in Canada, the US and Latin America, including MiningWatch Canada, EarthRights International, the Canadian Network for Corporate Accountability and the Pacific Center for Environmental Law & Litigation (CELL).
Students' work is supervised by JCAP's board of directors, which is composed of lawyers and professors from across Canada, including Kamphuis.
Two other board members – Professor Shin Imai of Osgoode Hall and Vancouver lawyer Kate Gunn (First Peoples Law) attended the showcase via teleconference, along with University of Victoria Professor Chris Tollefson, Executive Director of CELL.
"This is our first showcase at TRU and it's great to be able to come together as a group and connect our students with colleagues and supporters from across the country," Kamphuis said.
Over the past three years, almost 30 TRU Law students have contributed to JCAP initiatives, along with numerous students from other law schools.
JCAP students conduct a variety of tasks, including drafting memos, reports, submissions and complaints in diverse areas of law such as international human rights, access to information, securities, corporate, investment and privacy law.
"The goal of the work is to help communities and civil society activists use law to raise justice concerns about resource extraction and to raise awareness, ultimately generating pressure for policy change in Canada and abroad," explained Kamphuis, who along with TRU Law student Danielle Ching arguably did just that.
After the pair authored a Hill Times op-ed on the actions of Canadian embassies in response to conflicted mining operations abroad (a result of Kamphuis' research on the topic), the Canadian government introduced a new policy just a few months later.
"To us, it was an acknowledgement that we are on the right track," said Kamphuis.
Sometimes, the efforts of JCAP members can take years, resulting in projects spanning multiple student generations.
"One question leads to other questions," said Jeanine Ball, a now TRU alum who in her second year began working on a project related to alleged human rights abuses at a Canadian mine in Guatemala.
Ball has remained involved in the process of advocating for the disclosure of additional information from heavily redacted access to information documents. Meanwhile, second-year student Alejandra Haneo and third-year student Deanna Fedio have continued Ball's work on the project.
While JCAP's focus is on issues related to resource extraction abroad, it also responds to domestic concerns.
Last semester, TRU Law student Matt Campbell presented on Indigenous opposition to the Site-C dam at a public forum on resource issues, and subsequently had the opportunity to discuss his research in a couple of radio interviews.
"I drafted a memo for concerned communities, advising them of their options to challenge the approval of Site-C before international tribunals," Campbell said.
Depending on the project, students' work may be pro-bono, for course credit, or paid through research funds (such as TRU's Undergraduate Research Experience Award Program (UREAP), which partially funded Campbell's research).
With the concept of corporate social responsibility gaining momentum globally, Kamphuis hopes she can translate student interest into an academic offering at TRU Law, with a proposed new course, Transnational Community-based Lawyering in the Global Economy.
Student presentations/topic clusters at the TRU JCAP showcase included:

International Human Rights Options Memo (Treaty 8 Communities Opposed to Site-C)
-TRU Law students Matt Campbell and Dawn McConnell

Privacy Torts & Remedies for Corporate Espionage
-TRU Law student Jesse Guenther and UVic Professor Chris Tollefson

Access to Information Studies of Embassy Responses to Conflicts with Communities:
1. Marlin Mine in Guatemala – TRU Law alum Jeanine Ball and student Deanna Fedio
2. Tahoe Resources in Guatemala – TRU Law students Alejandra Henao and Joe Iwanicki

Working Group on Canadian Embassies, Mining Companies & Human Rights
1. Modalities of Support – TRU Law students Sepand Asefi, Amrita Gill and Milad Javdan
2. Domestic Law & Policy – TRU Law students Power Chen, Grace Kung and Emma Adbjalieva
3. International Law – TRU Law students Danielle Ching and Richard Wong

Amicus Curiae for Peru's Constitutional Tribunal on Police-Company Contracts
-TRU Law student Eric Thorstensson
*Eric received funding from the TRU Research Ambassador's Program

Oil Exploration and Pipelines in Kenya
1. World Bank Complaint – TRU Law student Christie Kobialko
2. Internal Corporate Complaint Mechanisms – TRU Law student Deanna Fedio