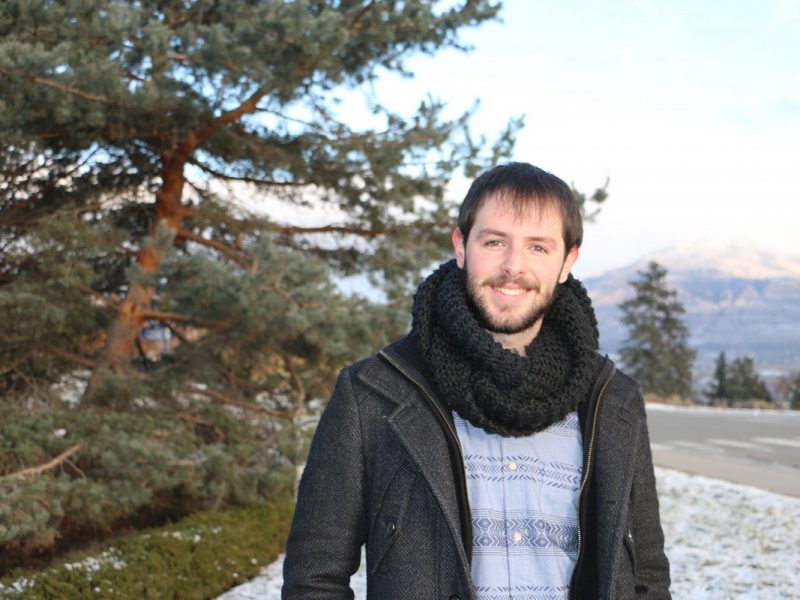 Albert Adserias is about to spend his first winter in Kamloops.
The Spanish student is earning a double degree in chemistry—a Bachelor of Science from TRU, and a Bachelor of Science from the Universitat Autònoma de Barcelona (UAB), his home university. He is the first student to take advantage of the double degree opportunity since the two universities signed an agreement in May.
Despite feeling a little chilled as his Canadian classmates enjoyed a "mild" autumn on campus, Adserias speaks warmly of his first semester at TRU.
"I really like the way of teaching here. Smaller classes are the best from my point of view," he said. "I have good relationships with teachers at my home university but it's more formal, I can't just drop by. Here it's more like we usually have in high school, that teacher-student contact. Even the dean, Dr. Dickinson, is very supportive and accessible."
Two chemistry faculty members are enriching Adserias' third-year studies through hands-on experience in their research labs—and invaluable financial support.
As a research assistant in Dr. Kingsley Donkor's lab, Adserias has had a chance to work with analytical equipment like the matrix assisted laser desorption ionization–time of flight (MALDI-TOF) mass spectrometer, an instrument he says is rare at home.
"It's very expensive, there are only two in Kamloops I think, here and at the hospital. It's exclusive," Adserias said. In fourth year he plans to do one of the two directed studies courses the double degree requires with Donkor, using the MALDI.
"It's a big opportunity to get experience in something that is not very common. I'd like to do something different, and Kingsley is one of the best instructors, he trusts and cares about you."
Thanks to the Undergraduate Research Apprenticeship Fund, Adserias will work for Dr. Nelaine Mora-Diez as a research assistant this winter, getting training in the complex computing skills involved in computational chemistry.
"Nela helped me discover that I am very good with physical chemistry, and made me love the theoretical aspects," he said. He has already chosen computational chemistry with Mora-Diez as his other directed studies course.
In addition to directed studies projects, the double degree with TRU includes electives, which Adserias notes are not an option in Spain—even in his first two years at UAB, he was in chemistry courses exclusively.
"Here, it's maybe half chemistry and half elective courses. We don't have these kinds of opportunities at home," he said. "I think it will be a very good experience to know what's going on in other disciplines, perhaps English."
Language is an integral part of his learning. As an international student arriving in third year, he says it was challenging being new when all the other students already knew each other. He could have stuck close to two fellow UAB students that are here on a one-semester exchange, but instead sought out friendships with English speakers.
"I did some LEAP activities, but I don't like to spend time with people who speak my own language, because I'm here to learn English. My best friend is international too, in chemistry with me, but there are also Canadian students that I study with," he said.
His English has improved, and he spends about 10 hours a day on campus.
"Maybe I'm bored—no, never bored—boring. I just came here to study and work," he explained. "Sometimes I go to the cinema but I just really focus on my studies. I sacrificed a lot to come here."
As difficult as it was to say goodbye to family and friends for two years, Adserias says the time is passing quickly, and he's learning a lot about himself. "I'm enjoying it, I don't want to finish this."