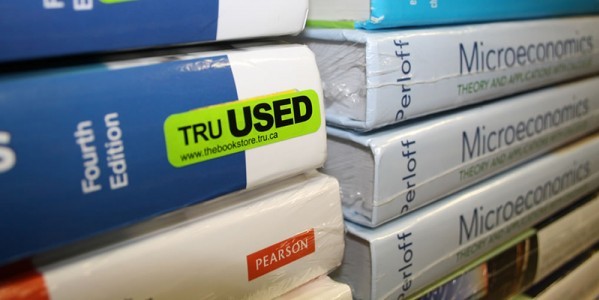 Donating books is becoming a TRU tradition. About 12 years ago, a former TRU Bookstore manager encouraged staff to donate textbooks that would otherwise be discarded and possibly end up in a landfill.
This month, TRU donated 205 write-off textbooks with a retail value of $4,900 to Better World Books (BWB). BWB is a charitable organization that distributes donated books globally to developing countries through its partners, which include non-profit literacy programs.
"The motivation was that we didn't want to continue to toss good books in the garbage bins and wanted them to go to a good cause," said Randy Matter, course materials purchasing coordinator at the TRU Bookstore. Over the years, Matter estimates, as many as 5,000 books have been donated.
Unsold buy-back books, desk copies, damaged, outdated and write-off books and textbooks are collected and sent to the TRU Warehouse, which pallets the books and sends them to a charity such as BWB.
This ongoing donation initiative is one example of how the TRU community is contributing to one of the university's strategic priorities: increasing sustainability. And not only reducing waste, but promoting literacy.
BWB recognizes the value of the printed word and, unlike other similar organizations, accepts books from any genre and on any topic. As a charitable organization, BWB sells new and used books—as one giant book drive—to help fund libraries and literacy incentives.
Want to contribute to a better world during the holiday season? Deposit your unwanted books in the wooden bin outside the TRU Bookstore to donate them to BWB. By donating textbooks and buying used ones when available, you too can promote the health of our planet.
Check out the TRU Green Guide for more ways to be environmentally sustainable.