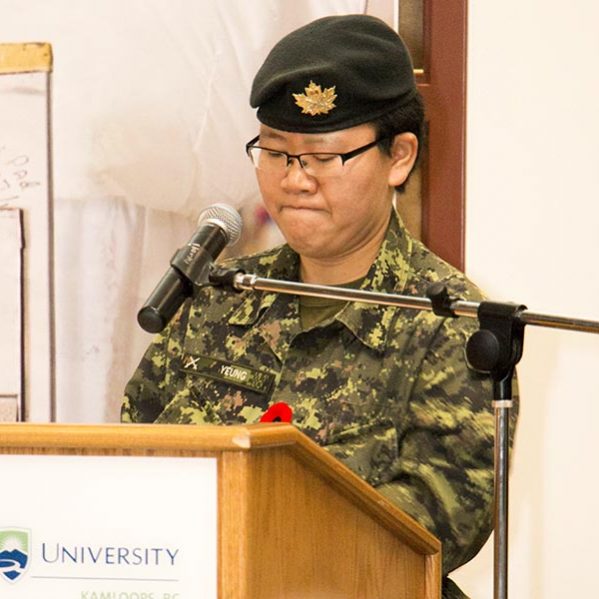 Freedom means many things to many people, but most of us agree it's a cornerstone of living in Canada.
TRU held its Remembrance Day ceremony Thursday in Student Street and for the crowd of about 80 students, faculty, staff and community members, it was an opportunity to reflect on what we enjoy today and how those things didn't come without a cost. The ceremony was also an opportunity to examine how each of us defines freedom and even how we will choose to celebrate the word on Nov. 11.
Jack Miller, a retired education faculty member and retired commander in the Canadian Armed Forces, delivered an address during Thursday's ceremony and shared some thoughts afterwards.
"Physical activity is a freedom to me. I can run anytime I want and I can run anywhere I want without fear of retribution or fear of getting shot," said Miller, who during his time in the CAF was part of the physical education leadership team. He served from 1963-2000 with the majority of his time in Canada.
"Freedom for me is doing the things you want to do and for me, running and hiking is liberating," said Miller.
For June Kelly, who is the coordinator of TRU's First Nations language teaching program, freedom is the ability to build her own home, which she has been doing for some weeks now. As for celebrating freedom on Nov. 11, it will be either attending ceremonies at Adams Lake or in Kamloops.
While wearing her CAF uniform, Bachelor of Tourism Management student Janice Yeung delivered the reading of In Flanders Field.
As part of the Cadet Instructor Cadre in the CAF, she will be celebrating freedom by attending ceremonies and reminding the youth in her charge of the things a number of them take for granted.
"Knowing how we got to the freedoms we have today is important and we need to remember to pay respect to the people who made sacrifices to make our lives better," said Yeung, who is a second lieutenant and whose primary task is to develop Canadian youth to be active citizens and prepare them for adulthood.
"We take things for granted, especially right now—we have a lot of freedom," said Yeung. "We have free (public school) education and health care. When I'm talking to some students from other countries, they tell me they don't have those things."