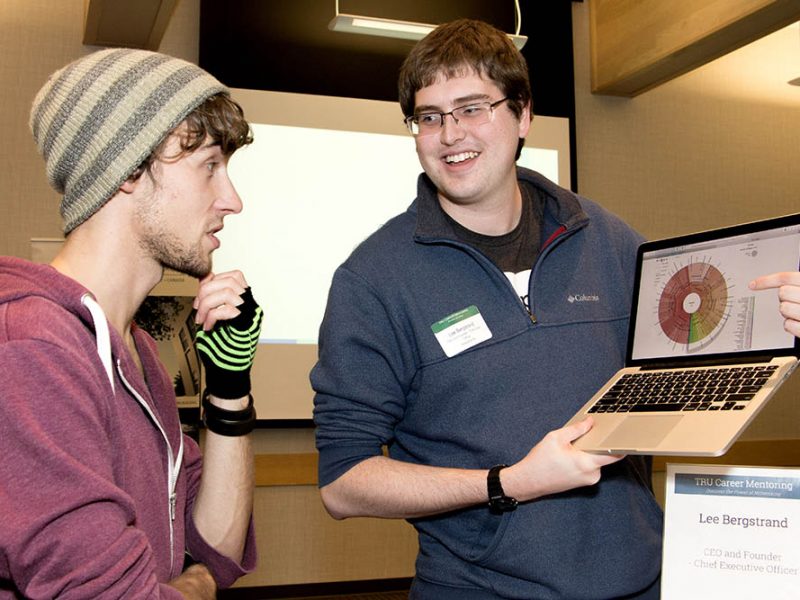 Upcoming networking opportunities
Of all the ways to pick up career advice, among the best is from the mouths of those who have been in your position.
And that's what about 50 students did Thursday during a career mentoring evening designed for those in engineering transfer, computing science, math and physics.
In one hour, students had the opportunity to move around the room from table to table and speak with many of the 30 mentors on hand, from small operations all the way up to larger ones like Domtar and BC Lottery Corporation. A number of the mentors were graduates of TRU programs.
Mentors passed along a range of tips:
don't limit yourself to approaching those inside your areas of interest, because people know people, and you never know how those connections could help you or how you could help someone else
let your passion come through in the work you do
make yourself known to people
it's okay to ask questions, especially in interviews
be enthusiastic
join associations in your areas of interest
volunteer with organizations inside your area of interest—helping at a conference could prove invaluable for the people you will meet and interact with
don't be afraid to try new things; go outside what's comfortable to you—great learning, insight and innovation can occur during times of discomfort
listen with genuine interest, don't over-talk, because you don't want to be annoying or come across as a know-it-all—be interested, rather than trying to be interesting