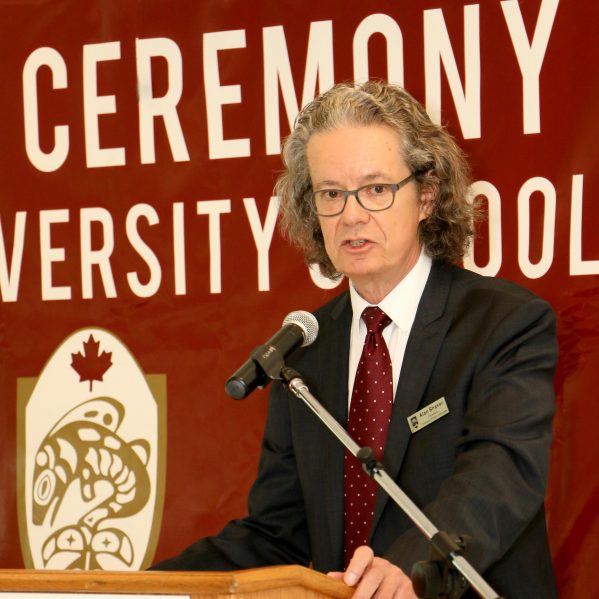 Today's official opening of a bilingual Chinese/English high school on the Kamloops campus of Thompson Rivers University marked a unique collaboration between TRU and its longtime partner Maple Leaf Educational Systems in China.
Maple Leaf Education North America (MLENA), a subsidiary of Maple Leaf Educational Systems opened the organization's first high school in Canada in late August. Sixty Chinese students between grades 10 and 12 are completing requirements towards both BC and Chinese high school diplomas.
"This collaboration is an example of Maple Leaf's and TRU's visionary approach to global education. It will build relationships between the people of China and Canada," said Alan Shaver, TRU President and Vice-Chancellor. "The smiling students you see here today are a testament to the fact that they share this vision."
The school will be operating as a Group 4 BC Independent School and it is responsible for its own operations, including leasing space from TRU and hiring its own staff: four BC teachers who all previously worked with Maple Leaf in China, a Chinese teacher, a Chinese counsellor and a school principal.
"This is a very proud moment for Maple Leaf as we come full circle and open our first school in Canada, in Kamloops and with TRU, one of our very earliest university partners," said Dawn Sutherland, President, Maple Leaf Education North America.
Sutherland confirmed that parents and students alike are attracted by TRU's university village concept including The Reach, the recently announced housing development at TRU. MLENA has expressed interest in building a permanent school on campus in the near future through the TRU Community Trust.
The first group of students (17 in Grade 10, 23 in Grade 11, and 20 in Grade 12) arrived in Kamloops on Aug. 25, started orientation the next day and classes on Aug. 29.
Maple Leaf is certified by BC Global Education Program Offshore Schools and has delivered the BC curriculum in English China since 1998. It operates eight BC-certified high schools in China with more than 7,500 BC-registered students enrolled.
"This unique partnership is strengthening the educational bonds between China and British Columbia. The value of international education goes well beyond the more than $300 million that international students contribute to British Columbia's economy. The true value of this partnership lies in the cultural connections students make with one another and the exposure to new places, new friends and new ideas," said Mike Bernier, Minister of Education.
Media inquiries
Alan Shaver
Thompson Rivers University
President and Vice-Chancellor
250-828-5001
Dawn Sutherland
Maple Leaf Education North America
President
604-428-8511
---
About MLUS at TRU
TRU has been selected as the first location for Maple Leaf Schools in Canada.
MLUS-TRU students are selected on strict academic, English and behavioural criteria.
Grade 11 and 12 students are currently registered as BC offshore students and have been studying BC curriculum at MLES schools in China.
Students will be in school uniform on campus and in designated MLUS-TRU space.
Grade 12 students with advanced standings may register in TRU academic courses in lieu of AP courses.
MLUS-TRU encourages link between school and TRU Faculty of Education with 'living lab' model for research, observation and practice teaching.
MLUS-TRU principal and teachers are all BC certified Canadian teachers each with many years experience teaching at MLES schools in China and welcome opportunities to interact with TRU Faculty of Education students and faculty.
MLUS encourages development of TRU student practicum and classroom observation.
When the MLUS facility is built on campus shared space for Faculty of Education seminar and observation can be included.
MLENA is hoping to develop TRU new teacher recruitment links through MLUS relationship.
Maple Leaf Quick Facts
MLES opened its first school in Dalian, PR China in 1995.
China's largest private international school system.
Canada' first and largest offshore school systemInspected and certified by the Ministry of Education, Province of British Columbia since 1998 – inspection reports available online at BC Ministry of Education website
Schools now located in 11 cities in China including Dalian (1995), Wuhan (2007), Tianjin-TEDA (2008), Chongqing (2009), Zhenjiang (2011), Inner Mongolia-Ordos (2012), Henan-Luoyang (2012), Shanghai (2013), Tianjin-Hua Yuan (2014), Pingdingshan (2014), Yiwu (2015), and Jingzhou (2015)
Over 18,000 students enrolled from preschool to grade 12
Over 7,500 students registered as BC offshore students
46 schools in China including preschools (13), elementary schools (11), middle schools (12) foreign nationals schools (2) and high schools (8)
Over 1,300 graduates in 2015
Over 65% of all graduates choose Canadian post secondary institutions for their further studies