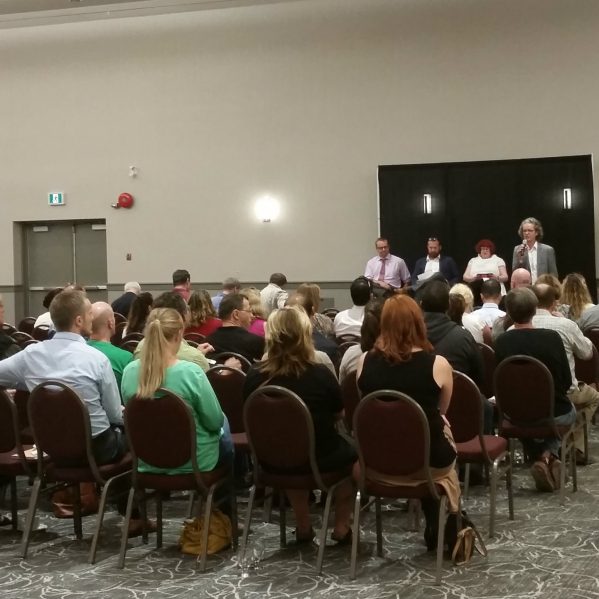 Over 225 faculty, staff and students gathered on Thursday to participate in an open-floor style town hall meeting designed to provide a space for the TRU community to share challenges and opportunities with senior university leadership.
The inaugural Town Hall—hosted by President Alan Shaver, Provost and Vice-President Academic Christine Bovis-Cnossen, Vice-President Administration & Finance Matt Milovick and Vice-President Advancement Christopher Seguin—drew a variety of questions from the 135 people in the Grand Hall as well as approximately 100 people who tuned in on livestream, including a small crowd from the Williams Lake campus.
Comments and questions covered a broad range of topics including:
Revising the curriculum review process
The university's financial health and budget model
Producing a unified strategic vision across faculties and the institution
How the university can be innovative and responsive
How the university plans to improve funding for scholarships and awards for students
A vision for increased funding for graduate students
The installation of the new athletic courts in the Campus Green
The university's new logo
Concerns about the process for advising students
The value of the ongoing NWCCU accreditation process
The mood was serious yet collegial with the panel even cracking a few jokes and drawing laughs from the room about the acronym-heavy dialogue.
Several crowd members thanked the leadership for organizing such an event and the panel listened intently to all questions, providing detailed answers where they could while noting the questions they would find answers to.
At times the audience was reminded of higher-level factors that can impact how processes play out, such as government mandates (that said, the fact that we're in an election year was noted as an opportunity to leverage government relationships and lobbying capacity).
The Town Hall supports the administration's Open Governance initiative, a platform to achieve greater transparency and open consultation, ultimately to increase effectiveness of TRU's collegial governance structures and accessibility of senior administrators.
There will be two town hall meetings annually; one to kick off the academic year and one during the winter semester.
Today's focus was on sharing ideas of possible challenges and opportunities for the year ahead. The winter session is an invitation for people to discuss the development of the proposed budget.
Key information from the sessions will be available on the Open Governance website. Meanwhile, TRU community members wishing to submit questions or comments not addressed today are encouraged to send their thoughts to president@tru.ca.