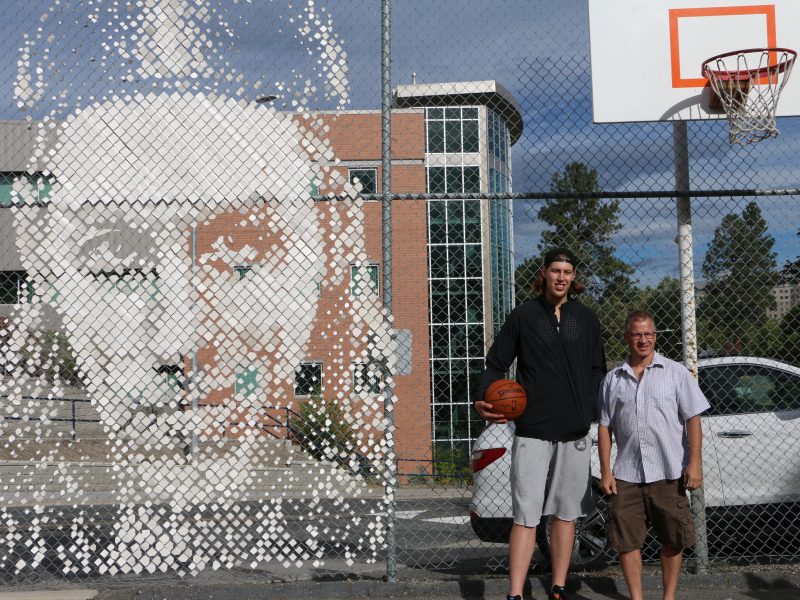 Armed with a sustainability grant and recycled vinyl trash, Kamloops artist Bill Frymire created a stunning 16-foot mosaic of local NBA star Kelly Olynyk, which is a TRU work of art. The portrait is so impressive that it garnered attention from ESPN and Olynyk fans alike on Twitter this past week.
The mural, which is displayed on the chainlink fence of TRU's outdoor basketball court, exhibits Olynyk's larger-than-life face and was created from recycled vinyl siding and donated material. The 140-hour project cost about $3,500 which was funded by TRU's sustainability grant. The grant is awarded to improve operational environmental performance, foster sustainability literacy and generate campus community engagement.
After receiving the grant, Frymire wasn't sure who to choose as the subject of his piece. When the outdoor court was chosen, Olynyk become an obvious front-runner. The Boston Celtic's big-man is a stand out basketball star who has given back to the university and community at large—Frymire reached out to the Celtics for a photo of Olynyk.
"This is a unique piece of art and Bill's work is unreal," said Olynyk. "It's humbling and a real honour to have my image displayed as a mural in Kamloops; it's the city that raised me and TRU is like my second home."
With the help of chain maille expert Dave Holley and a number of other assistants, Frymire worked most days over the summer from 7 p.m. to 9 p.m.
"I can't thank the city and the university enough for helping get me to where I am today," said Olynyk. "I think the combination of sustainable materials and creating a friendly accessible place to play basketball will be great for the sport."
This isn't Frymire's first sustainable mosaic. In 2013 he created a piece out of recycled milk jugs honouring the late Terry Fox. Unfortunately, milk jugs are not as weather resistant as vinyl siding, which he used for this piece. Frymire believes the Olynyk mural will withstand the elements for up to 10 years.
Olynyk's father Ken Olynyk is the director of athletics and recreation and is extremely pleased with how everything came together.
"I think this is recognition of what is possible when you are willing to put in work," said Ken. "Bill did a fantastic job."