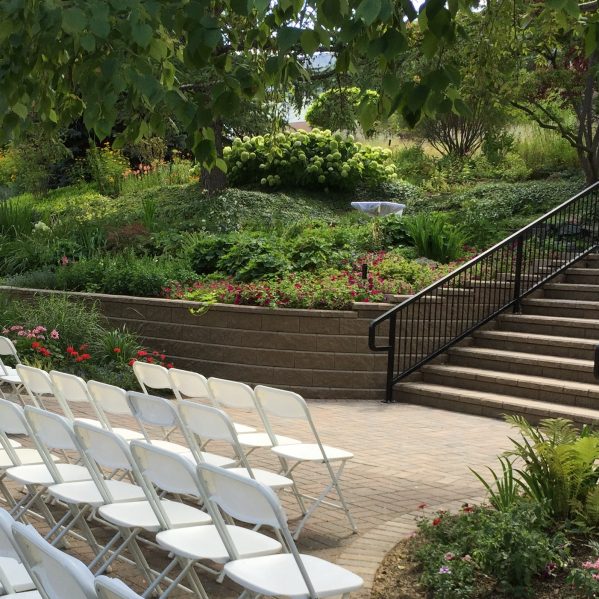 The TRU Horticulture Gardens now have even more to brag about.
Sustainability is one more feature of the most beautiful venue on campus. The Horticulture Gardens now feature newly-designed retaining walls, which have replaced creosote ties with more aesthetic and sustainable materials. In addition, the adjacent Campus Activity Centre (CAC) facility uses renewable gas which helps allow for hosting carbon-neutral weddings or other functions.
The gardens' reputation was reinforced with the 2014 Huffington Post story "Best Wedding Venues In BC". Featuring a wide variety of ornamental and edible plants and trees, the gardens offer easily accessible short walking paths, a large central paved area with a gazebo, and full-service catering and facility booking options through TRU.
Adding to the impressive nature of the gardens, the new retaining walls will be dedicated to Steve Wong, one of the founding faculty members of the TRU Horticulture Program. Wong was instrumental in establishing the program in the early '80s, and worked tirelessly to build the foundation upon which the Horticulture Gardens stand today. The dedication ceremony will take place at the gardens on Aug. 23 at 2 p.m., and the public is welcome to attend.
The wall was partly funded through TRU's innovative Sustainability Grant Fund (SGF). The SGF empowers faculty, staff and students to be part of positive change on the campus, and has funded a wide variety of projects and research.
The Campus Activity Centre has gone through numerous energy saving measures and by purchasing renewable natural gas (RNG) the facility can now claim carbon neutrality. The RNG is captured from sources such as landfills, agriculture waste sites or wastewater facilities. Other energy saving measures include high-efficiency boilers (which have reduced gas use by 50 percent), state-of-the-art LED lights throughout the facility, and numerous changes to the Building Automation System to ensure optimal efficiency.
The CAC is also a zero-waste facility, ensuring minimal waste enters the landfill by using standardized waste stations and two large adjacent in-vessel composters. TRU is a member of the National Zero Waste Council, and has significantly reduced waste entering the landfill over the past years.
For more information:
James Gordon
Office of Environment & Sustainability
jgordon@tru.ca
250-852-7153