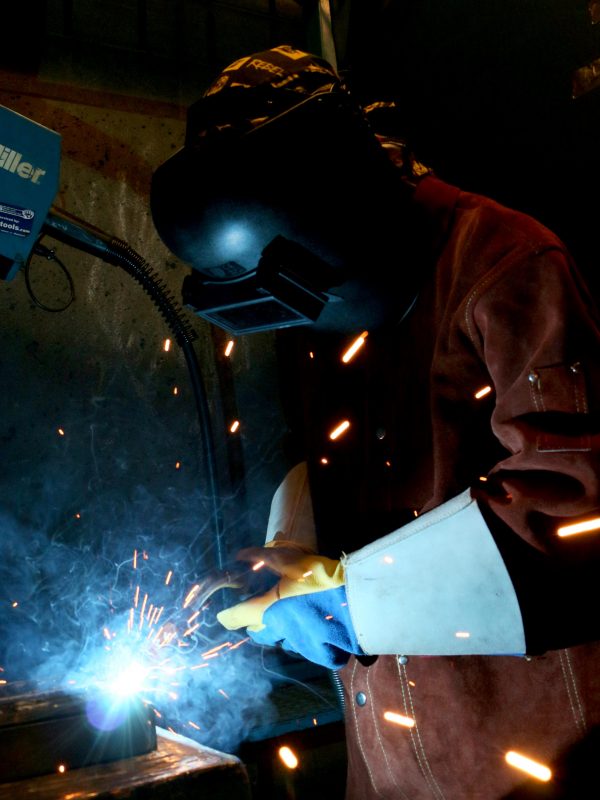 This week has been a bit like traveling back in time for welding student Adam Hildebrand.
The recent grad of TRU's welding foundation program is spending this week helping with a youth welding camp at TRU and is finding a lot of the material being covered, he was introduced to a few months ago.
"The camp has been a bit of a recap of the stuff we did six months ago at the beginning of our program," said Hildebrand, who is now pursuing a welding apprenticeship. "It's been cool working with the kids because a lot of them already have shop experience and it was neat to see how quickly they can grasp what they're learning. Some of the kids were so far ahead of the others because of their previous experience."
Presented by the Canadian Welding Association Foundation (CWAF) the camp is free for those 12-15 years old. Under the guidance of a head instructor, campers learn theory and safety and to reinforce both, create projects testing such things as their understanding of weld symbols, shaping metal, joining pieces and planning projects from start to finish. Most of the 19 campers this week are from Kamloops.
Campers make their way around the tools alone or in pairs and the enthusiasm is contagious. They display the poise and confidence needed to work in a shop while giving the machinery the required respect for the dangers they pose if used improperly.
Tamis Linton is another assistant and has been wowed many times this week by the experience and enthusiasm.
"The kids have been phenomenal and they're super interested," said Linton, who is also pursuing a welding apprenticeship. "They're interested in trying things they've never tried before and they know a lot more than we were expecting. We're able to leave them by themselves, which is something we weren't expecting. We thought we might have to micro-manage everything, but we're pretty much able to give them the project and they run with it. They're doing really, really well."
Overseeing the instruction and assistants is welding faculty member Jim McCarthy. With 47 years in the trade, he never tires of working with enthusiastic learners.
"As an instructor, it's always satisfying to see a student's project come to a successful completion through their hard work and dedication," said McCarthy. "The pieces they make cannot be replicated and are truly unique. The goal for me is to pass on my skills to the next generation. I gained my skills from my elders and mentors in the workplace and I feel very strongly that I must carry on the tradition of my trade's guild and of this incredible trade of fabrication, welding and art creation."
The camp is transformative and that's what the CWAF is looking for, said CWAF Executive Director Deborah Mates.
"When they finish they'll have great memories and hopefully feel inspired to pursue a career in the welding profession," said Mates. "We are excited to be able to bring this opportunity to the provinces and expose youth to something they may never have imagined."