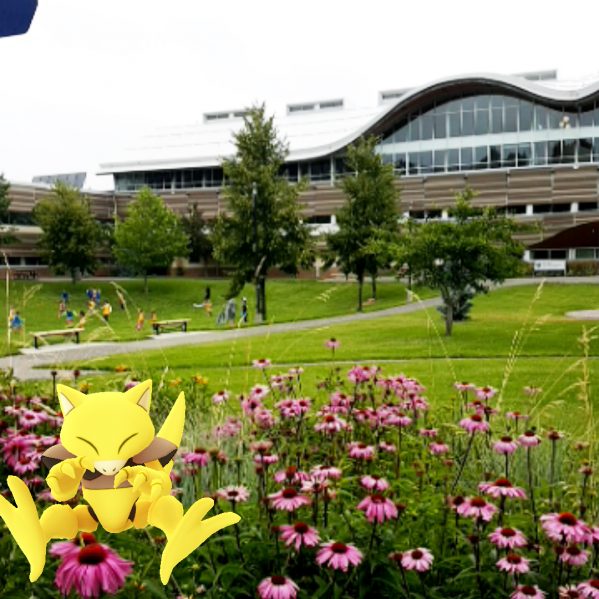 It's official, Pokémon Go is available in Canada and it's safe to say the augmented reality game has taken the country—and the campus—by storm.
But what is it about the app that has people leaving their houses in droves to catch whatever Pokémon luck might put in their path?
According to Computing Science faculty member Dr. Haytham El Miligi it's about more than just the technology—it's about the community.
"I think there is a sense of adventure when players walk around in new places trying to achieve their goals; there is a great level of engagement with other players," said El Miligi.
"The fact that players can post their achievements on social media, meet strangers who play the same game while also getting some exercise, makes the game really attractive to different demographics of players."
More photos of Pokemon on campus
There is already a Pokémon Go community Facebook group in Kamloops with close to 1,000 members who have meet-ups, discussions and go on Pokéwalks together. The TRU campus is one of many destinations in the city.
This type of virtual reality game is not new to TRU computing science students, who developed location-based apps modelled after a similar version of Pokemon Go as an assignment in El Miligi's class last term. Students in COMP 3160: Mobile App Development 2 created a Scavenger Hunt app that had players follow a map around TRU, using real-world locations to explore the campus and collect coins—their apps have been published on the GooglePlay store since March.
"There have been games in the past that are of similar concept, such as Ingress, which is the same developers as Pokemon Go. Ingress is also a huge success, albeit not as popular as Pokemon Go," said Michael Peng, computer science student.
"I think that a huge reason for the success of this game is that everyone wants to have an actual Pokemon journey. Pokemon Go adds to an already existing concept that has a large player base that is familiar with the game, and that is why so many players want to catch them all," said Peng.
More info
Dr. Haytham El Miligi
Computing Science
250-828-5230
helmiligi@tru.ca