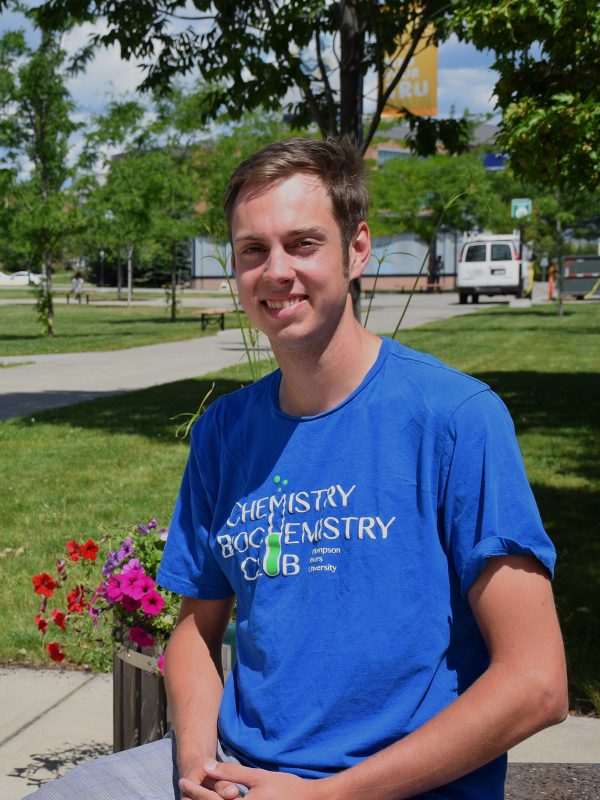 During his four years at TRU, Matt Miller always wanted to get involved in research, and it was during his final year that the chemistry major from Merritt finally got his chance.
In June, the outgoing president of TRU's Chemistry and Biochemistry Club was part of a four-person team, which included Trevor Johnson, Kile McKenna and Stephanie Wright, that drove TRU Sustainability's new electric vehicle to Portland, Oregon, in order to volunteer at the Green Chemistry and Engineering Conference hosted by the American Chemical Society Green Chemistry Institute.
While there, the students participated in a one-day workshop, during which time nine teams were created and tasked with finding a solution to a problem faced by the textile industry — specifically textile dyeing. Each team was composed of chemists, engineers and an industry representative.
Miller's team opted to tackle the issue of water waste in the textile industry. According to Miller, one-fifth of the world's water waste comes from the dyeing process, which is widely recognized as one of the most environmentally unfriendly industrial processes in the world.
Miller's team produced the winning solution, which was considered so groundbreaking that the workshop facilitator, a colouring expert, estimated that if the process were successful, it could reduce industry wastewater by up to 25 per cent.
"We'll soon have a meeting to determine if the idea is viable, and to go ahead and consider patenting the process," Miller said.
While this experience opened his eyes to applied research, it's not his first research experience, and he hopes it won't be his last. Miller recently completed an Undergraduate Research Experience Award Program project, working under the supervision of geologist Dr. Nancy Van Wagoner at the McAbee Fossil Beds. The area received official heritage designation in 2012, and is known worldwide for the abundance, diversity and quality of fossils.
Miller, who will take up pharmaceutical sciences at UBC in the fall, said he stumbled into the UREAP opportunity, but it quickly became a highlight of his undergraduate experience.
The project, Chemical Analysis and Scanning Electron Microscope Imaging of the McAbee Fossil Beds, aimed to confirm the presence of volcanic activity in the area more than 50 million years ago.
"We found some really cool minerals that we think could be linked to volcanism, which will tell us more about how this site developed," Miller said.
As a result of his work on the UREAP project, Miller became so proficient in the use of the Scanning Electron Microscope, that he ended up teaching a class on the instrument.