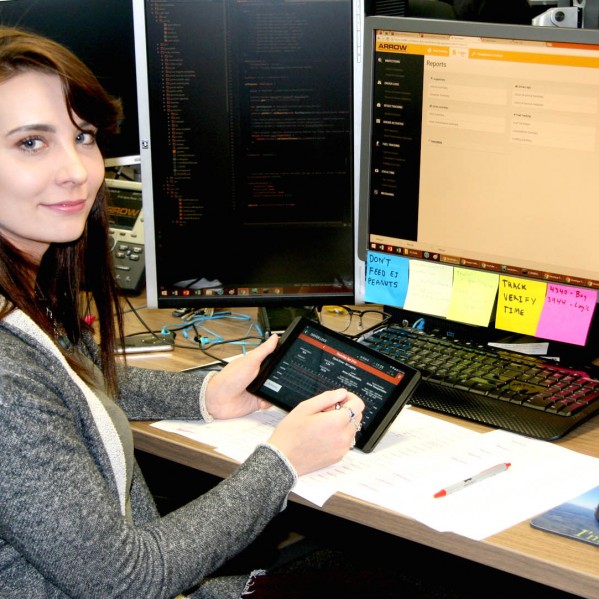 With exams over and grades filtering in, university students are in summertime mode. And third-year student Elycia Buckley will be spending the next four months on her computer—as part of her summer job.
Buckley, a Bachelor of Computing Science student, will be working for Arrow Transportation Systems—a transportation and logistics solutions company headquartered in Kamloops—in her second term as a co-operative education student.
Co-op is an academic program that enables students to gain industry-related work experience during the course of their university program.
"I learned about the program and how students can get experience before they graduate. It was a no-brainer for me," explained Buckley, who wants to be as prepared as possible for the workforce.
"I researched the local co-op opportunities in technology and discovered the position with Arrow. I knew it was a unique opportunity to be a part of a tech startup," she added, referring to a newer division of the nearly century-old company that has developed an innovative technology to track transportation performance.
And gaining expertise in the technology field is sure to provide Buckley with a suite of skills that are in demand. A recent Globe & Mail article discusses the critical aspect of computing science skills and a projected national shortage of talent in that area.
Similarly, according to the province's Tech Strategy "the sector has a principal role in the BC Jobs Plan" and is key for economic growth in our province.
This is good news for all computing science students and those who gain undergraduate co-op experience will no doubt have even more of an edge. And as Arrow sees it, it's a win-win. Hiring co-op students means the company can take advantage of the undergraduate pool of talent that happens to be in their backyard at TRU.
"There is some stuff that in the process of developing our application has been changed because of co-op students asking us questions about the why. They bring a lot to the table," said Andre Larouche, Arrow's chief information officer.
Lincoln Smith would agree. The executive director of the Kamloops Innovation Centre (KIC) and TRU director of research partnerships and enterprise creation, calls TRU students an asset to the BC Interior in an article highlighting the region's emergence as a vibrant tech hub. Smith runs the TRU Generator, a resource for the local startup community.
And additional momentum will foster this growth. KIC is working closely with Venture Kamloops (the city's economic development arm) to examine the region's tech needs and capabilities. "Our partnership will provide an in-depth perspective as we pursue our long-term strategic goal of developing Kamloops as a technology hub," said Venture Kamloops executive director Jim Anderson.
This means more local opportunities for students to keep 'asking about the why,' which for Buckley is indicative of the ever-evolving nature of the industry but also the education she is receiving at TRU and the opportunity to complement that with co-op.
"Technology gets outdated quickly. Our instructors encourage us to adapt—this keeps the curriculum relevant in the changing technology world," she said, noting the invaluable skills learned in a real-world job. "I have learned so much at Arrow, things I couldn't learn in a classroom."
Such hands-on 'work-integrated learning' is essential, claims Dave McKay, CEO of the Royal Bank of Canada, in a Globe & Mail op-ed on the importance of experiential learning.
Meanwhile, Buckley says the classroom dynamic created by small class sizes at TRU fosters students' confidence and ability to be flexible and adaptable. "The instructors push students' growth in the area tailored to their interests," she said, using an example of developing a digital metronome (for music bands) for her app design course.
Back at Arrow, director of people systems Lisa Savage calls the relationship with TRU a positive experience.
"We are an entrepreneurial organization that thrives on new ideas. What better way to optimize this than working with students as well as recent grads," said Savage, noting that the company's employ of over thirty TRU students, alumni, or apprentice workers contributed in part to their recent Milestone Achievement recognition at the TRU Distinguished Alumni Awards.
As for Buckley, she is looking forward to her summer of testing software. Her future plans include a semester or two of study abroad, training to teach English overseas and becoming a software architect.