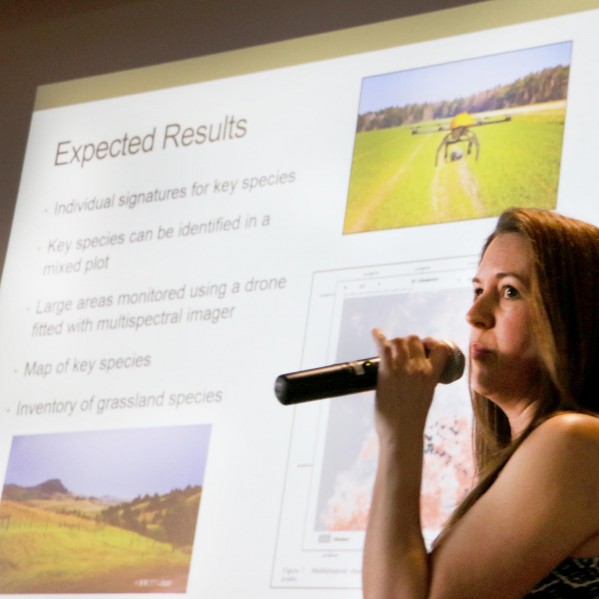 TRU Master of Science in Environmental Science students impressed the judges during the 37th Annual Pacific Ecology and Evolution Conference (PEEC) held Feb. 26-28, 2016 in Bamfield.
"That we took five of the Top 10 awards, is phenomenal," said Dr. Wendy Gardner, coordinator of the Master of Science in Environmental Science Program and assistant professor in Natural Resource Sciences. Gardner made special note of Bachelor of Natural Resource Sciences student Kailee Streichert's poster, which took second place in a field made up entirely of graduate students.
"I think this really shows the importance of the research our students are doing, and it shows their skills in presenting that research."
Gardner offered those comments during the annual Master of Science in Environmental Science Showcase, which took place on March 3. The showcase — which is a requirement for all MSc students — features four-minute oral presentations by first year students and poster presentations by second year students.
Pacific Ecology and Evolution Conference 2016 Award Winners
Best 3 Minute Talk
First Place: Stephanie Winton, "The role of thermoregulation in rattlesnake road mortality."
Fourth Place: Jared Maida, "Response of rattlesnakes to disturbance in the South Okanagan."
Honourable Mention: Hilary Hamilton, "Ontogenetic shift of environmental stress tolerance in intertidal invertebrates: Does motility play a role?"
Best Poster:
First Place (tie): Paul Antonelli, "Facilitating mine reclamation with soil amendments and nurse plants."
Second Place: Kailee Streichert, "Assessing control methods for yellow flag iris (Iris pseudacorus) and their impact on aquatic invertebrates."
Masters of Science in Environmental Science Showcase
Best Oral Presentation
Michelle Walsh for "Identifying thermal refugia and their use by a species of conservation concern, Chinook salmon, in a temperature sensitive stream."
Honourable mention to: Michelle Phillips and Stephanie Winton
Best Poster Presentation
Sarah Whitehouse, "Biosolids: Public perceptions and Community Engagement."
Honourable mention to Brianna Iwabuchi and Paul Antonelli
More information
Dr. Wendy Gardner, Coordinator
Master of Science in Environmental Science
250-371-5570
wgardner@tru.ca