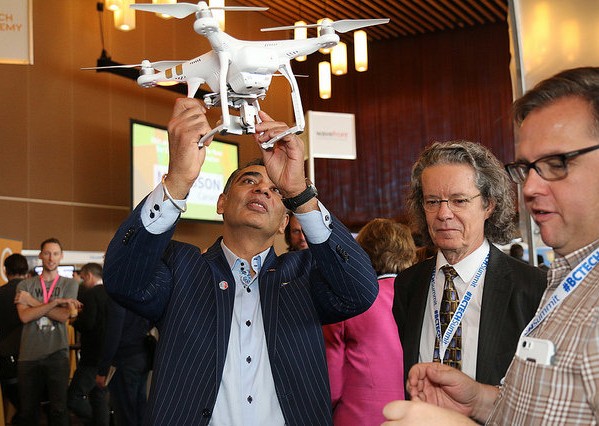 Want to know what the future holds for sustainable agriculture? Look up.
Dr. John Church, BC Innovation Chair in Cattle Industry Sustainability was featured in the Future of Food exhibit at the BC Tech Summit last week, drawing attention from the Minister of Technology and Citizens Services, Amrik Virk, as well as the more than 1,000 high school students who attended the event.
"We were asked to show how the tech sector is being applied to the agri-food sector, and our use of Unmanned Aerial Vehicles (UAVs) does this," said Church. "TRU is increasingly being recognized as a leader in applying technology to the agri-food sector."
Supported by a $122,000 grant from the Canada-BC Agri-Innovation Program under Growing Forward 2, a federal-provincial-territorial initiative, Church's research program began with an investigation into the use of drones to track cattle over rangeland, but the scope of the project has since expanded. Now, the UAVs can be equipped with infrared cameras to detect sick or diseased animals, and he has also begun investigating the value of using the technology to manage pastures, giving ranchers a better idea about the health of their range.
The goal of the research project is to develop precision ranching methods that use state-of-the-art technology to give resource managers—including ranchers—the information they need to graze the right cattle, at the right place at the right time.
"We hope this will one day transform existing ranching operations in British Columbia into exceptionally well-managed precision ranches," he said.
During the BC Tech Summit, people were drawn to the interactive display where Church encouraged them to try on the first-person headset, allowing them to see through the eye of the drone.
More information
Dr. John Church, BC Innovation Chair in Cattle Industry Sustainability
250-828-5150
jchurch@tru.ca