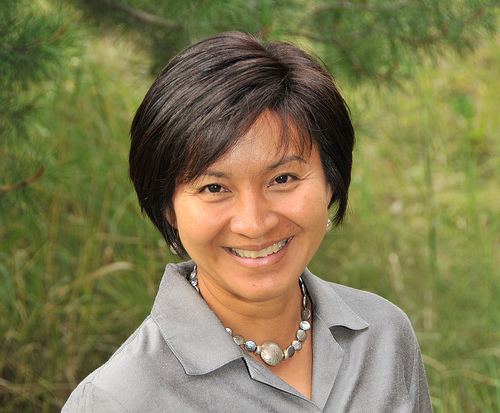 TRU microbiologist Dr. Naowarat Cheeptham and Wildlife Conservation Society of Canada biologist and TRU Adjunct Professor Dr. Cori Lausen have been awarded a $75,000 USD research grant from the United States Fish & Wildlife Services to advance the search for effective biological control options against Pseudogymnoascus destructans, or Pd, the fungus that causes White Nose Syndrome (WNS) in North American bats.
The goal of the research project is to identify new microbes and viruses that inhibit the growth of Pd, increasing the options available for WNS mitigation, and increasing the likelihood of achieving effective and safe treatment of WNS for bat species across North America.
The grant was one of 26 announced today, with a total of $2.5 million earmarked for research, management and communications projects that further the effort to stop the spread of the deadly fungal disease that has already killed millions of North American bats since it was first documented in New York in 2007.
"Previous research funded by the U.S. Fish and Wildlife Service has led to major breakthroughs in our understanding of white-nose syndrome, providing a measure of hope that we can defeat this devastating disease," Service Director Dan Ashe said in a news release. "Bats are a critical part of our ecology and provide essential pest control for our farmers, foresters and city residents, limiting the need to spray harmful pesticides."
Cheeptham and Lausen have been collaborating for the past two years on this research, and this project will provide funding for the next two, giving them the necessary tools and resources needed to make significant progress in understanding this devastating fungi.
"This is a huge collaboration. We're working with the Wildlife Conservation Society of Canada and with B.C. and Alberta speleological federations," said Cheeptham, who is perhaps best known for her exploration of cave microorganisms and their potential for new drug development, which was profiled on CBC's The Nature of Things with David Suzuki in February.
"I never expected that one day my research would lead me to study bats, but in studying caves, and the fungi and bacteria within, has naturally brought me to this. We need to understand this devastating fungal infection, and Lausen and I work so well together because we each bring a different expertise."
What is White-Nose Syndrome?
The little brown bat and tri-coloured bat have become functionally extinct by white-nose syndrome in some areas of Eastern North America. The disease surfaced in Canada in 2010, and has been confirmed in 26 U.S. states and in New Brunswick, Nova Scotia, Prince Edward Island, Quebec and Ontario. The disease is caused by a fungus that grows over the bats' faces while they hibernate in winter. According to the Canadian Wildlife Health Cooperative, the disease has been expanding by a rate of 200-250 kilometres per year.
More information
Dr. Naowarat (Ann) Cheeptham
ncheeptham@tru.ca
250-371-5891