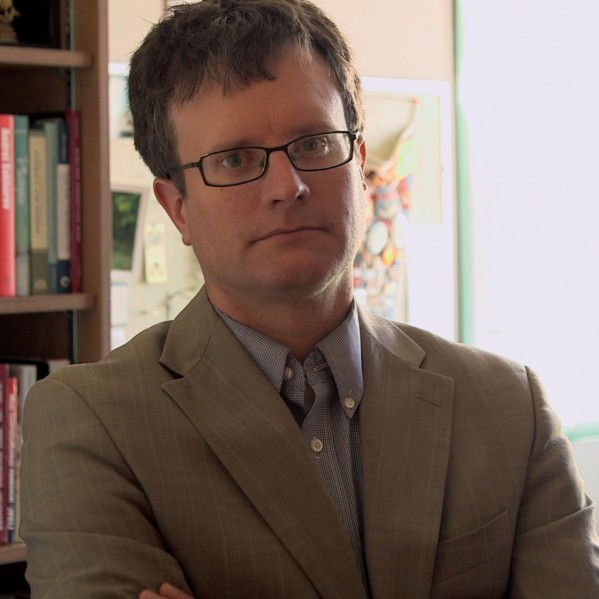 Russian historian Dr. Wilson Bell has been awarded a prestigious Insight Development Grant (IDG) from the Social Sciences and Humanities Research Council (SSHRC). This is another demonstration of the growing research strength at TRU.
Bell receives $40,000 over two years for his project, "44  Lenin Avenue: Siberia's 20th Century History as Told through Its Most Remarkable Building". The funding allows him to spend eight weeks in Tomsk, Siberia next summer, where he will expand his research into this remarkable address, focusing on two events that took place at 44 Lenin Avenue: the murder of an Orthodox priest in the basement of the building in 1917, and the opening of a museum dedicated to memorializing Stalinist repression in 1992.
Insight Development Grants support emerging scholars, and enable the development of new research questions, theoretical approaches and ideas.
"As a Russian historian it is difficult and expensive to conduct research. Without this funding I wouldn't be able to take on this project," said Bell. "It is great to be researching at an institution like TRU because despite being relatively new here, I am so well-supported. This funding really allows me to lay a strong foundation."
This is the fourth project to be supported at TRU by an IDG in the past two years. Last year, SSHRC awarded grants to Canadian historian Dr. Tina Block, psychologist Dr. Catherine Ortner, and education faculty member Dr. Carol Rees.
"This is a great example of research that will have an impact on a global scale," said Troy Fuller, Manager of Research and Graduate Studies at TRU. "The fact that we've seen four researchers in the past two years awarded these prestigious federal research grants speaks to the world-class scholarship of TRU's faculty."
Prior to embarking on this project, Bell devoted his academic career to a study of the Russian Gulag system. He is in the process of publishing a book on the Gulag in Western Siberia during the Second World War, and was supported in his research by TRU's Internal Research Fund.
The Research Support Fund provides a portion of the costs associated with managing the research funded by the Social Sciences and Humanities Research Council, such as salaries for staff who provide administration support, training costs for workplace health and safety and maintenance of libraries.