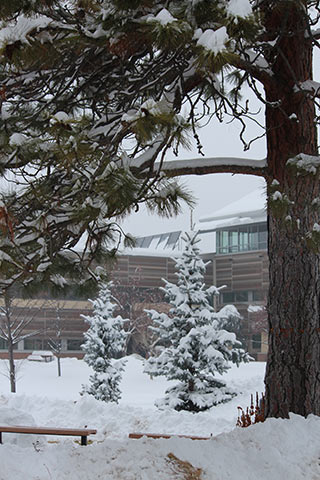 The President's Report is produced each month for presentation to the TRU Board of Governors and TRU Senate.
Read the January 2015 President's Report for an overview of recent university news, accomplishments and publications by the TRU community, and a list of upcoming campus events.
Among the highlights in January, TRU had its first-ever snow day on Jan. 5, and students showcased their undergraduate research projects at the Philosophy, History and Politics (PHP) Conference Jan. 15-18. We congratulate students in Jeff McLaughlin's Biomedical Ethics class, who turned an experiential learning assignment into a successful and potentially life-saving campus campaign about organ donation.
This issue also features presentations and publications from arts, business, education, law, nursing and science, including a new book edited by Will Garrett-Petts, James Hoffman and Ginny Ratsoy, called Whose Culture Is It, Anyway?: Community Engagement in Small Cities.
To view past reports, visit the President's website. To submit news, achievements or publications to the next report, send an email to president@tru.ca.
More TRU news: Top TRU stories of 2014