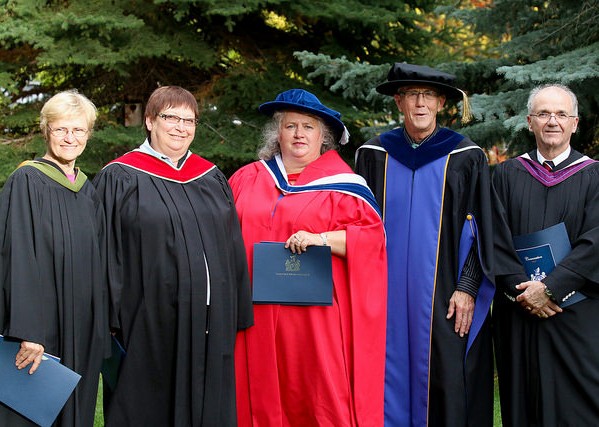 The President's Report is produced each month for presentation to the TRU Board of Governors and TRU Senate. Read the October 2014 President's Report for an overview of recent university news, accomplishments and publications by the TRU community, and a list of upcoming campus events.*
October's issue highlights TD Bank's generous endowment to support TRU's Aboriginal Mentor Program. Also in the news, Biological Sciences faculty member Cindy Ross Friedman was inducted into the Royal Society of Canada's inaugural College of New Scholars, Artists and Scientists, representing the emerging generation of scholarly, scientific and artistic leadership in Canada. Five TRU researchers received funding from the Natural Sciences and Engineering Council of Canada (NSERC) this year, the most successful Discovery Grant competition in TRU history. And Roland and Anne Neave donated 160 acres of wetland near Wells Gray Park to TRU in September, expanding TRU's existing wilderness research area.
Among many achievements this month, we congratulate Ross Cloutier (Adventure Studies), who received the Charles Greeg Award for exceptional leadership, service and innovation in wilderness risk management, and alumnus Mark Zuehlke ('74), who received the prestigious 2014 Pierre Berton Award from Canada's National History Society.

This issue also features presentations and publications from arts, business, law, and nursing, including a new book by law faculty member Tesh Dagne, Intellectual Property and Tradition Knowledge in the Global Economy.
To view past reports, visit the President's website. To submit news, achievements or publications to the next report, send an email to president@tru.ca.
*Note: Due to the cancellation of the October meeting of Senate, this report from October was held over to be distributed at the November meetings of the Senate and Board of Governors.