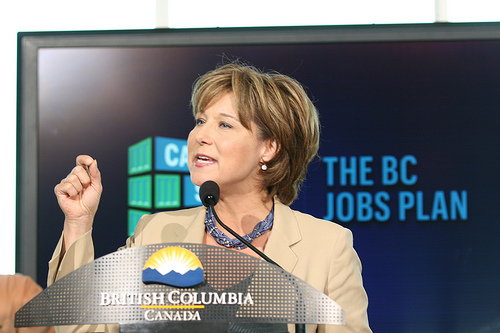 As part of B.C.'s Blueprint, Premier Christy Clark today announced additional trades-training seats for students in Quesnel and Williams Lake.
The Ministry of Advanced Education is providing one-time funding of $192,000 to support the additional trades training spaces."
For TRU Williams Lake it means three additional student cohorts of 16 spaces each. The funding will open spaces in:
* Saw filer level 1 to start in January 2015.
* Saw filer level 2 in March 2015.
* Level 2 heavy duty mechanics to start in May 2015.
It's welcome news for the current cohort of the inaugural level 1 Saw Filers who finish up their studies December and the 20 students on the waiting list. Another 14 students have indicated they are interested in taking the Saw Filer level 2.
"Our government is working with local communities, employers and industry in the Cariboo to make sure trades training seats meet local needs," said Premier Clark. "We want British Columbians to be first in line for the one million job openings expected by 2022."
"We're training students in the Cariboo for B.C. jobs," said Advanced Education Minister Amrik Virk. "Our commitment in B.C.'s Blueprint is to increase access to trades training that supports the needs of B.C.'s industry, employers, workers and families."
"Our government is following through on its commitment to make use of local training spaces in communities such as Williams Lake," said Cariboo-Chilcotin MLA Donna Barnett. "With assistance available through programs like the BC Access Grant, students from throughout B.C. can get high-quality training that will give them a good pay cheque in their back pocket."
"Offering these additional trades seats in Williams Lake not only makes for a better opportunity for student education today, but also for better communities and families tomorrow," said Thompson Rivers University president and vice chancellor Alan Shaver.
The Ministry of Advanced Education worked with the Industry Training Authority and the local post-secondary institutions to identify training needs.
The additional trades training program at the College of New Caledonia campus in Quesnel will be welding level C with spaces for 16 students starting in February 2015.
Other quotes
"Increasing trades' training seats in Quesnel for in-demand jobs will ensure we have a skilled workforce that will be ready for jobs in a range of industries," said CNC president Henry Reiser.
The Province launched the BC Access Grant so that students with financial need can receive up to $16,400 in non-repayable grants for studying in-demand trades at eligible public post-secondary institutions. To instantly see where trades training spaces are available, students can also use an online trades seat finder at: www.tradestrainingbc.ca
Currently, there is high demand for some courses, particularly for trades foundation courses in the Lower Mainland, while there are no wait lists for courses elsewhere in the province.
A million job openings are expected in B.C. by 2022, with about 43% requiring college education or apprenticeship training. B.C.'s Skills for Jobs Blueprint lays out a comprehensive action plan to re-engineer education and training so British Columbia students and workers have the skills to be first-in-line for jobs in a growing economy.