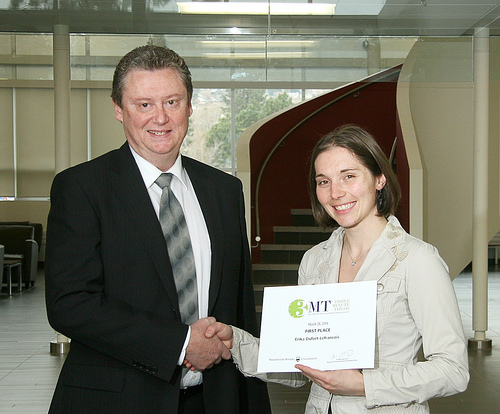 Vote for Master of Environmental Science student Erika Dufort-Lefrancois' 3 minute thesis. Erika is representing TRU in the national Canadian Association for Graduate Studies 3 Minute Thesis competition. You can watch Erika's video below.
Voting is open until June 2 for the People's Choice winner. Vote here and watch the videos of regional winners as they appeared in front of a live audience. Vote for the graduate student who was able to explain his or her research and its relevance in a way that you found engaging, clear and inspiring.
Judges will be choosing a national champion based on those same criteria, and winners will be announced June 12.
With her thesis titled: "How Tightly Do Indol and LPS Hug? Determining a Binding Constant," Dufort-Lefrancois won the Western Canada round of the competition in Calgary on May 2. Her condensed thesis is now being ranked against the best in the country, with the final round consisting of the top three finishers from each of the three regional championships — Western Canada, Ontario and Eastern Canada.
In addition to a cash prize, the national champion will attend the CAGS Annual Conference in St. John's, NFLD.
The 3MT concept has gained widespread international popularity since the University of Queensland developed it in 2008. In Canada, UBC ran the first university-based competition in 2011, and it has grown in popularity since then.
[youtube]https://www.youtube.com/watch?v=kADSnnTcoFs[/youtube]
Erika is a student in TRU's Master of Environmental Science program.