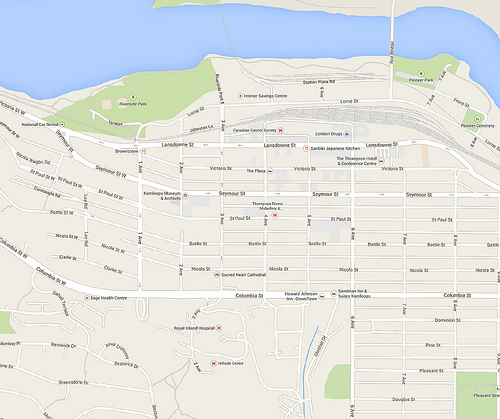 Celebrate Jane's Walk and World Labyrinth Day with a couple of walks planned for Sunday, May 4.
Jane's Walk is a worldwide event celebrating the legacy of Jane Jacobs, who imagined walkable neighbourhoods and cities. Jane's Walks are free, locally organized walking tours in which people get together to explore, discuss, and celebrate their neighbourhoods.
---
Corkscrew Road
Visual Arts faculty member Ernie Kroeger will lead this walk of old Corkscrew Road, which is not labelled on Google Earth.
Meet at 10am at the steps of the Old Court House, which is located at First and Seymour.
Everyone welcome, and for more information, contact Ernie Kroeger at ekroeger@tru.ca
---
River's Trail Labyrinth
Nina Johnson, lecturer in the English and Modern Languages department at TRU and a Veriditas Labyrinth Facilitator, will lead a walk at the River's Trail Labyrinth.
Meet at the west end of Pioneer Park near the red historical kiosk at 2pm. The walk will follow the footpath toward Riverside Park (five to six minutes), and pause to enjoy a labyrinth experience.
The labyrinth is an ancient meditative pattern used to reduce anxiety, improve concentration, and enhance creativity. Read more about Nina Johnson's labyrinth project with Creative Writing students.
Everyone welcome, and for more information, contact Nina Johnson for more information at njohnson@tru.ca