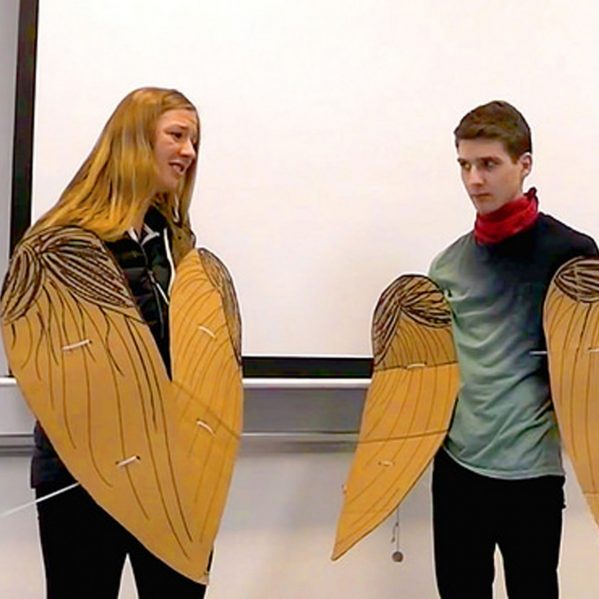 See below for the placings in the third annual Salmon in the Tree video project undertaken by teams students in Biology 1210.
But first, from Science faculty member Susan Purdy, here is a short explanation of Salmon in the Tree and a brief description of the videos placing first, second, and third.
The 'Salmon in the Tree' project is now in its third year, and the project involves teams of Biology 1210 who are given a 'quirky' biological question to answer. They first have a library session where they learn how to differentiate between and find scholarly information sources. They also individually write an article to answer the question, and finally they produce a video.
The criteria for the video is that it uses suitably complex scientific information to answer the question, but also does so in an informative and creative way—all in under five minutes!
This year's winner answered the question 'How and why did the hummingbird cross the Gulf of Mexico?' and did a spoof on 'The Office'.
The second place video answered the question 'How are leaf-cutter ants good farmers' and used claymation in a very creative way.
The third place video answered the question 'Why have male fish living downstream from big cities switched their sex?', and is very funny.
---
First How and why did the hummingbird cross the Gulf of Mexico? (Lab 03)
---
Second How are leaf cutter ants good farmers? (Lab 01)
---
Third Why have male fish living downstream from big cities switched their sex? (Lab 11)
---
Fourth How are bees different from us when it comes to sex determination? (lab 10)
---
Fifth The promise of poop – can it really help patients with C.difficil? (Lab 01)
---
Sixth How and why did the hummingbird cross the Gulf of Mexico?(lab 09)
---
Tied for Seventh Why did the sloth climb down the tree to go to the bathroom? (Lab 08)
---
Tied for Seventh Why have polar bears switched to eggs for breakfast? (Lab 07)
---
Tied for Seventh How can our garbage be used to save the planet? (Lab 12)
---
Tied for Seventh How and why did the hummingbird cross the Gulf of Mexico?  (Lab 12)
---
Tied for Eighth Will Canadian monarchs no longer be able to vacation in Mexico? (Lab 08)
https://www.youtube.com/watch?v=JVifF4acwDk&feature=youtu.be
---
Tied for Eighth Why did the sloth climb down the tree to go to the bathroom? (Lab 05)
---
Tied for Eighth How are leaf cutter ants good farmer's?- (Lab 04)
---