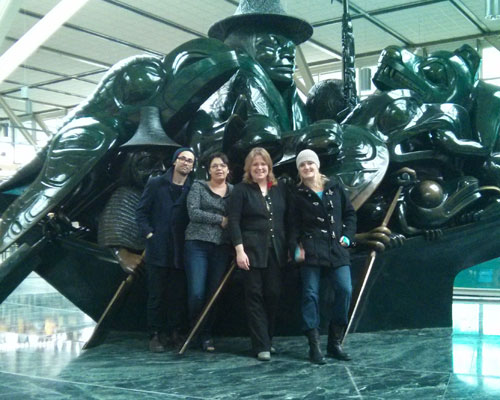 Three students in the Faculty of Law's graduating class of 2014 explored important Aboriginal legal and political issues and gained unique practical experience at the 20th Annual Kawaskimhon National Aboriginal Law Moot hosted by the Toronto Faculty of Law March 6-9.
Third-year JD candidates Chris Albinati, Debra Febril (Nisga'a) and Julia Rees had the honour of representing a fictitious Indigenous nation during an intense three days of mock roundtable negotiations on the opening of a mine on pristine Indigenous territories. The Kawaskimhon Moot is a non-competitive event that challenges teams of law students from across Canada to find ways of reconciling Indigenous and non-Indigenous legal orders and values within the context of a pressing contemporary issue facing Aboriginal peoples today.
The TRU Aboriginal moot team was coached by constitutional and Aboriginal law professor Nicole Schabus, who shared her expertise in Canadian Aboriginal law, Indigenous economies and international standards for Indigenous rights, environmental protection and resource development.
"Professor Schabus prepared us for the moot as if we were going to be litigating at the Supreme Court of Canada," says Albinati, who is vice-president of the Indigenous Law Students Association (ILSA) at TRU. "Her coaching was instrumental in preparing us for the political dynamics of representing an Indigenous nation at a national-level roundtable."
The team also benefited from the advice and guidance of Indigenous negotiators Ron Derrickson (Okanagan) and Don Ryan (Gitxsan), and Indigenous scholars and activists Sharon Venne (Cree), Arthur Manuel (Secwepemc), Russell Diabo (Mohawk) and Laura Calmwind (Kitchenuhmaykoosib Inninuwug).
"I am very proud of our team, who emerged as power brokers at our negotiating table based on the substantive and applied knowledge that they built in Secwepemc territory," said Schabus. "They made a deep impression at this national moot, which had all of Canada's law schools present. Our students felt validated by the recognition they received, showing that their legal education and training measures up and even goes beyond many other schools at the national level."
Students take away many valuable lessons from the moot's Talking Circle format. This year the team from TRU Law has developed a strong understanding of implementing Indigenous perspectives into a modern business negotiation format. They also have a greater appreciation for alternative dispute resolution processes.
Albinati, Rees and Febril look forward to putting their knowledge into practice after they graduate in June 2014 as part of the inaugural law class at TRU.
For more information:

Professor Nicole Schabus
TRU Faculty of Law
T: 778-257-4431
E: nschabus@tru.ca

Chris Albinati
JD Candidate 2014
TRU Faculty of Law
T: 250-572-2188
E: cjalbinati@gmail.com