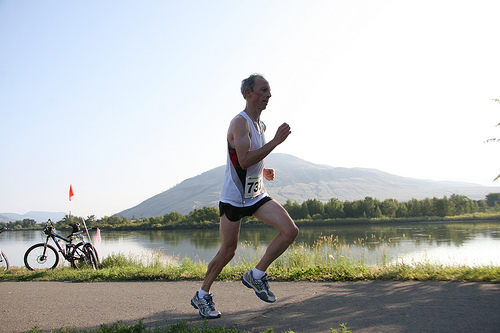 KAMLOOPS, BC—Organizers of this year's Kamloops Marathon have listened to participants' feedback and have responded with significant changes for the event scheduled for Sunday, July 27, 2014.
And with those changes, it is likely participation will surge well over the 400 of last year.
Among the changes for 2014: Moving to a one-day format instead of spanning two days, adding a marathon relay, having the half marathon included in the Interior Running Association's Canadian Tire Road Race Series, and reducing the 10 kilometre down to 8K, and the 5K run/walk to a 3K.
Five events, one day
That means the third annual Kamloops Marathon will have options of 3K, 8K, half marathon, full marathon, and marathon relay. All will start and finish at McArthur Island, and have staggered start times.
As in the previous two years, a portion of the entry fees will go towards bursaries for athletes at Thompson Rivers University.
"We value the input of our participants and wanted to respond favourably by incorporating some of the best suggestions. Our responsiveness should make for a memorable day for everyone.," said said Rick Jenkner, who is this year's race director and brings to the position 15 years of organizing and the running of races through Running Room and the Interior Running Association.
"I'm very happy to be part of the Kamloops Marathon," said Jenkner, "and I'm looking forward to building it into one of the biggest and best events in the city."
All participants will receive a race shirt, medal, and be able to take in a free pancake breakfast at the finish line. A portion of entry fees will again go towards bursaries for Thompson Rivers University WolfPack athletes.
Marathon distance again a Boston qualifier
The marathon distance will again be a qualifier for the Boston Marathon and in being so, should attract runners needing a qualifying time for the 2015 race before the Sept. 14 qualifying cutoff date.
Organizers are again keeping entry fees reasonable, with prices gradually increasing as the event nears. The best prices are until Feb. 28 and range from $15 for the 3K to $50 for the marathon, and $120 for the relay.  Registration is at Running Room stores and online at kamloopsmarathon.com.
Great excuse to combine scenery, exercise, and fundraising
Rick Brewster of Kamloops intends to race this year after running the half marathon last year and the marathon in year one, where he finished third. For him, it's another excuse to combine great scenery, exercise, and fundraising for a great cause.
"Visually, it is a beautiful route. You're running alongside the river and have the nearby rolling hills as a backdrop. The course really does celebrate Kamloops. And being a math professor at TRU, I'm thrilled to be part of an event that supports our athletes."
Marathon Expo
The Kamloops Marathon Expo is scheduled for Saturday, July 26 from noon to 6pm at the McArthur Island Sports Centre.
More information
Rick Jenkner
Race director, Kamloops Marathon 2014
Tel: 250-374-1652
Email: KamloopsMarathon@gmail.com
Web: http://www.kamloopsmarathon.ca/run.html
Christopher Seguin
VP Advancement, TRU
Tel: 250-574-0474
Email: cseguin@tru.ca