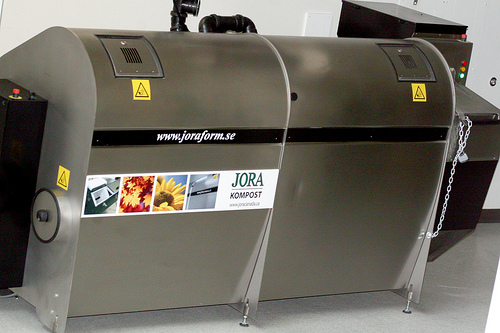 Thompson Rivers University is taking steps to make composting on campus as much a habit as recycling and reduce waste by up to 275 kilograms a week.
TRU's Office of Environment and Sustainability will start a six-month compost pilot project on the Kamloops campus. A new Jora Compost 5100 in-vessel composter has been installed in the lobby of the Culinary Arts Building and is estimated to handle the kitchen waste of 100 households at 2 to 3 people per household.
For all to view
"We want the students, staff and faculty to see it in action.," says Jim Gudjonson, Director, Environment and Sustainability, noting the regular supply of scraps from the Culinary Arts training kitchen as well as a steady stream of people who visit the cafeteria make the lobby a great demonstration site. "Hopefully we can all learn a bit more about how to manage our organic waste, both here on the campus and at home."
Gudjonson conducted a composting study to establish a baseline on campus, and secured funding for the pilot. He is very excited about getting the project started but admits there have been some concerns regarding the location of the composter, in the lobby of the Culinary Arts building, and possible odours.
Compost requires four ingredients
"Compost requires four ingredients: kitchen scraps, which are nitrogen-rich; a carbon source, like dead leaves (or wood pellets); oxygen, which a lot of people overlook; and time. If you combine these and work to figure out the right amount of each, compost will not smell," he says. If the pilot proves successful, the composter will likely be housed behind glass where it can still be showcased.
The Office of Environment and Sustainability has hired TRU co-op student Allysha Sorba to manage the day-to-day operation of the pilot project, including running the composter, collecting and maintaining the campus-wide compost collection bins, gathering data and conducting research. She and Gudjonson, along with other staff and Culinary Arts chair Ed Walker, participated in a training session last month with Distribution Jora Compost Canada, prior to the official start of the pilot this month.
"Ideally, we would like to have a campus-wide composting program and for composting to become the norm at TRU so that it's as natural as recycling your pop bottle," says Gudjonson.