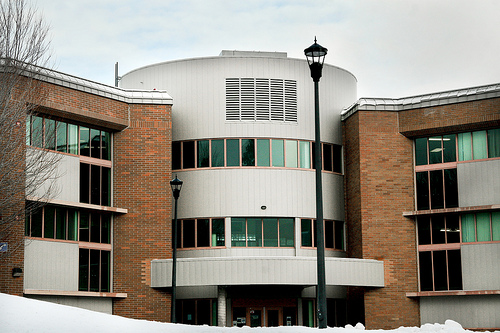 The flooding from a burst sprinkler pipe above the third floor ceiling of the Arts and Education may result in the relocation of exams scheduled for the area.
Recovery operations are underway and the Registrar's office will be in contact with faculty and students whose exam space may be affected by recovery operations.
All exams are proceeding as scheduled.
Thompson Rivers University apologizes for an inconvenience and thanks the students and faculty for their patience.
---
Following are questions asked by news media, with responses supplied by Les Tabata, director of Facilities Services at TRU.
1. What burst? A sprinkle pipe or head? Was this due to wear or did it freeze?
The leak was caused by a failed union. A union is a threaded coupling that joins two pieces of pipe together. See photo below. Given the location of the pipe, the manner of failure and the ambient temperature, the likely scenario is the water inside the pipe froze.
2. When was the leak discovered?
Approx. 5am, Dec 9.
3. Were there huge puddles on the floor or was the water seeping, a torrent?
I didn't see it before the water was turned off, but sprinklers are designed to deliver a lot of water under high pressure in a short time.
4. How would you describe the leak? Did it leak through to all three floors?
Three floors were affected in the centre section only. The wings were unaffected.
5. Who discovered the leak?
When sprinkler pressure abruptly drops, a fire alarm is activated. Kamloops Fire Rescue and campus security responded to the fire alarm.
6. How extensive was the damage?
Three floors were affected in the centre section only. The wings were unaffected. Some contents were damaged as well as ceiling tiles. The insurance adjuster is determining the extent of loss. I cannot confirm whether telecommunications equipment was affected, but I have no report of telecom problems.
7. How long before things are back to normal?
The sprinkler system was repaired and pressurized by noon today. Drying is ongoing. Debris removal commenced this morning and may be completed by now. Complete recovery will depend on the adjuster determining and approving the loss and subsequent ordering/installing of replacement elements. In the meantime, exams will continue as planned with only minor impact on students.