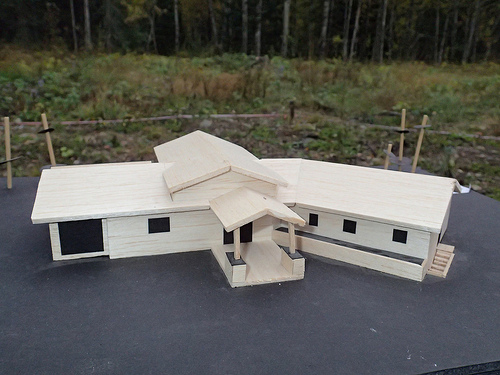 TRU's Wilderness and Research Centre located in Wells Gray provincial park took another step towards completion with the ceremonial sod turning on Oct. 5, 2013.
Robert Bateman, the world renowned naturalist and wildlife painter, was given the honour of turning the first bit of ground as more than 30 people looked on.
Bateman is hopeful the building will be a piece of the puzzle that helps get more and more people out of their homes and away from electronic devices and into the wilderness.
Because the building will be ideal for staging workshops, conferences, research activities, planning sessions, retreats, and a host of other activities where people will want to be steps from the outdoors, Bateman is hopeful the centre will be a piece of the puzzle getting more and more people outside and enjoying nature.
"In spite of the world growing at a horrible rate of population and commercial growth, participation in wilderness is going the other way, and we have to halt that deterioration," Bateman said.
"We not only have to have participation in nature grow, but budgets connected to participation in nature," he said, adding that a friend working in a parks program in Banff has observed fewer young people and families visiting parks. And to Bateman, that's not a good commentary on the direction civilization is headed.
"I think the only way to a person's heart is through experience. You can't read it in a book, it has to be through the experience of getting out in nature."
The one-storey structure will be about 2,100 square feet, able to sleep 20 (five bedrooms of four each), have meal seating for 30, and have a large living room area to comfortably seat everyone.
The building was designed by Blake St. Peter, a graduate of TRU's Architecture and Engineering (ARET) program. See video below for some insight from St. Peter.
The centre will include a range of energy-saving options like overhangs to cut sunlight in the summer, high-grade insulation, and eventually solar panels.
When complete, it will replace a series of rustic buildings, with one of them being an old school house and others being cabins used years ago for a Girl Scouts camp.
In the past couple of years, a number of small cabins were built by Clearwater Secondary School students through a partnership with School District 73.
---
Blake St. Peter offers up some insight into his design of the TRU Wilderness and Research Centre.
[youtube]http://www.youtube.com/watch?v=chtSX1K0AME[/youtube]
---