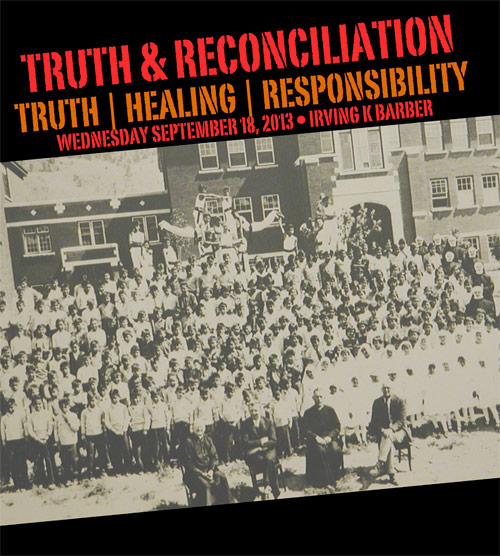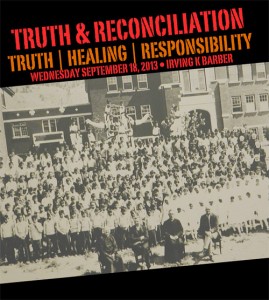 Thompson Rivers University will mark the Sept 16 – 22 Truth & Reconciliation week in British Columbia with stories from survivors, educators, and students who directly or indirectly experienced Canadian Indian Residential Schools.
Organized by the Aboriginal Education Department, the Truth & Reconciliation event is Wednesday, Sept. 18 from 9:45 am until 2:15 pm and all are welcome. Faculty and Students are encouraged to find out more about residential schools and create opportunities in their classes for awareness building around the issues and engage in reconciliation activities. There will also be opportunities for students, faculty and staff to express their thoughts about residential school reconciliation actions through words or artistic expression on "blankets" at various locations on campus.
"Knowing the truth of our history is essential to reconciling what has happened to the Aboriginal peoples and to establishing new relationships and building a brighter future," said Alan Shaver, TRU President and Vice-Chancellor.
"We are hoping this event will make our community aware of the unspoken – and unwritten – chapter of Canada's past," said Nathan Matthew, Executive Director, TRU Aboriginal Education.  "But it's also a celebration of the resiliency of Aboriginal peoples during those bleak times."
Wednesday, September 18, 2013 in the Irving K. Barber Centre, Brown Family House of Learning
Schedule of Events
9:45 am Welcome
10:00 am TRU Law video on Kamloops Truth and Reconciliation
10:20 am Speakers and discussion
Past – Jimmie Jack, Elder
Present – Patrick Walton, Faculty and TRU Students
Future – Justin Young, TRU Student
11:45 am Snacks
12:00 pm Blanket exercise-individual written expression on reconciliation
"Fallen Feather" documentary and discussion.  The documentary,
utilizing survivor testimonials and historic documents, explains
why residential schools were created and the long lasting negative
impact on First Nations people.
2:00 pm Closing
The public, students, faculty and staff are encouraged to drop by for the full day or for as much as their schedule allows.
For more information on TRU's Truth & Reconciliation events, contact Bernie Gilbert at scbgilbert@gmail.com.
[youtube http://www.youtube.com/watch?v=vPcgc7g63ts]