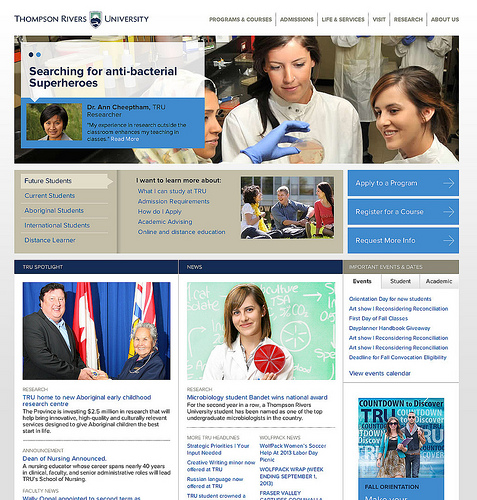 Thompson Rivers University is giving its website a visual, structural, and technical makeover in an effort to refresh its main recruitment and retention tool.
The three-year project, a first for TRU since 2006, was guided by the need to better recruit and retain students. The information architecture, look and feel and new content were developed to address those institutional goals.
"Best practices have changed significantly over the past seven years. Our website should be focused on what students are looking for, not how the university is structured," says Matthew Tarzwell, TRU Web Strategist and lead person of the project.
»»» TRU's NEW HOMEPAGE
»»» WEB PROJECT OVERVIEW AND MORE
Other new features include a new site search, support for site-wide emergency notifications, better news, events, and social media integration, the use of Google Translate for non-English visitors, and responsive design.
The website was built to automatically respond to any size of device. Visitors will get an optimal experience whether they are using desktop computer, tablet or smartphone. Site administrators no longer need to maintain a separate mobile website.
"The website is the primary communications vehicle for students. Programs, admissions and student-service information must be better-organized and easier to find," Tarzwell says.
When the project is complete, more than 6,000 pages will have been migrated.
MORE INFORMATION
Matthew Tarzwell
TRU Web Strategist
Tel: 250-852-6256
Email: mtarzwell@tru.ca