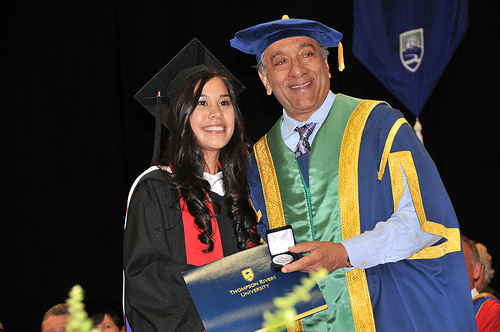 One of the country's most well-known and respected lawyers and advocates for justice has been appointed for a second term as Chancellor of Thompson Rivers University.
TRU's Chancellor since June 2010, Wally Oppal, QC has personally conferred credentials at 21 convocation ceremonies.
"It has been an honour to be a part of TRU and to see first hand how the university brings together students from around the world, from many First Nations and from all parts of Canada to create a vibrant learning environment," said Chancellor Oppal, who has congratulated over 5,000 graduates who have crossed TRU Convocation platforms since his installation in the role. "I have been absolutely spellbound by how the local communities have embraced this university and I look forward to seeing TRU continue to not only grow in student numbers but in stature."
LIFELONG ADVOCATE FOR SOCIAL JUSTICE
Oppal has dedicated his entire working life to improving social justice and community safety. He was Crown Counsel and Defense Counsel on numerous high-profile criminal cases and in December of 2012 delivered Forsaken, a 1,448 page report concluding his duties as the Commissioner of the Missing Women Commission of Inquiry.
"Wally Oppal has served TRU well in his first term as Chancellor, not only as a tremendous role model for achievement, setting a positive example for students who are working hard on their educational goals, but as an inspiration by his commitment to justice," said Fiona Chan, Chair TRU Board of Governors.
The Board of Governors, on the recommendation of a Board committee comprised of students, alumni, faculty and community representatives, made the decision to re-appoint Mr. Oppal for a second three-year term, extending to March 30, 2017.
"Wally Oppal's reputation as an advocate of justice and his dedication to serving the people of British Columbia is an inspiration to students, faculty and staff alike," said Alan Shaver, President and Vice-Chancellor of Thompson Rivers University.
OPPAL'S BACKGROUND
The Honorable Wally Oppal is the second Chancellor to be appointed to Thompson Rivers University. Born in the Vancouver-Fraserview neighbourhood and raised on Vancouver Island, he attended law school at UBC, after which he operated his own Vancouver-based private practice for 14 years .
He was appointed to the County Court of Vancouver in 1981, and four years later, appointed to the Supreme Court of British Columbia. In 1992, he wrote the report for the Independent Commission of Inquiry into Policing in British Columbia, and while in court, was a specialist in several high-profile cases.
In 2003, he was appointed to the British Columbia Court of Appeal where he served until 2005 when he resigned to sit in the provincial legislature as Attorney General. That May, he was elected MLA for Vancouver-Fraserview. Justice Oppal served as Attorney General and Minister Responsible for Multiculturalism from 2005 to 2009. He is a frequent guest lecturer for Continuing Legal Education Society seminars and on criminal justice, violence against women and women's justice issues.
In 2010 Wally Oppal was awarded an Honorary Doctorate of Laws from the University of the Fraser Valley and was appointed Commissioner of the Missing Women Commission of Inquiry.