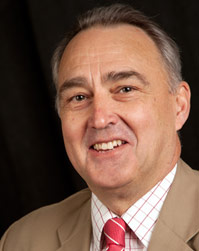 Thompson Rivers University mourns the loss of its Associate Vice President, International and CEO Global Operations.
Dr. Wesley Koczka, who died suddenly over the weekend, began his appointment at TRU nearly three years ago, following an accomplished career in internationalization at the University of Victoria. At TRU, Wes's foresight, strategic sense and exceptional communication abilities sparked connections between TRU and institutions and people around the world.
"Wes Koczka was a visionary," Alan Shaver, TRU President and Vice-Chancellor told the university community via email yesterday. "I had the privilege of working and travelling with him extensively. He was totally committed to internationalization as a way of bringing the people of the world together. I witnessed his charm and humour as he gently dealt with all around him during our trips together. I enjoyed seeing him in action – and I learned a lot."
Under Koczka's leadership TRU World continued to grow, hosting more than 1800 students from 80 countries on the TRU campus and with more than 1000 students enrolled in programs in China, India, Malaysia, Singapore and Thailand.
Condolences from students, administrators and support staff from TRU, as well as many the individuals Wes connected with throughout the world are being sent to the university and posted to the TRU World Facebook page. We have also posted many below.
Dr. Koczka received his BA, BEd, and MEd degrees from the University of Saskatchewan, and his Doctorate in Education from Brigham Young University in Utah.
Wes leaves a wife, a daughter and two sons to mourn his loss.
A Collection of Condolences
---
I have known Dr. Wesley J. Koczka for many years. I met him when he was visiting Saudi Arabia for the first time in 2007. I met him for the second time in China during the Olympic Games in 2008. Together, we visited several educational projects in China. I spent a very nice and fruitful time with him and Dr. Strong, where we agreed to start our cooperation to teach English at King Faisal University in Alahsa, Saudi Arabia. He made several visits to us in Alahsa, Saudi Arabia to follow up with our project. I am very proud that I started my English program with the guidance, recommendations and assistance of Dr. Wes which has been running successfully since 2008. The cooperation with Dr. Wes continues, even when he moved to Thompson River University in Kamloops, British Columbia. For the last two summers, together we developed a very interesting summer English Immersion program at TRU for more than 60 Saudi students so far.
Dr. Wes was one of the best and most professional people I have known in my life. He was a hard working, always positive, helpful, calm, decision maker. Most importantly was his humanistic attitude and eagerness to benefit others.
I was waiting for his visit to Saudi Arabia next May, but I was shocked when I heard that he passed away on his last trip to develop international business relations for TRU. He had many dreams to strengthen international educational projects and he was able to achieve many successful relationships. Due to his continuous efforts, our cooperation is one of his successful relationships. He is a great loss for many people who knew him very well, and I feel very saddened by his passing. I wish him the best for his journey to the second life and I ask GOD to bless him for his good intentions and achievements. My sincere condolences go to his wife, sons, daughter and all of the TRU staff for his loss. I assure you that he will remain in our memories because we shared with him unforgettable events and memories.
May GOD have mercy on him.
Dr. Saadoun Al Saadoun
SHABAKA Training Institute
Alahsa, Saudi Arabia

---
Wes was truly a visionary in university internationalization. We are still processing the rich input and guidance he provided for our TRU/UAM World Campus project during our meetings from last week. He had a true passion for collaboration with a deep commitment to people he worked with.
Both Christian and I are thankful for the time we had last week (and in past visits) to get to know him better. His sharp mind and gentle sense of humour was a joy to interact with.
Over coffee in Dortmund Wes shared story upon story of special experiences he had had with international students at TRU. For him, the world was a small place, totally global and full of the "extended family" that he had created through partnerships, exchange, travel and adventures abroad.
As "family members" we share your loss…
Christian Werner
Joel Schmidt
UAM/IUN Team.
---
Each and every Saudi student at TRU has benefited from the outstanding efforts Wes invested in transforming Thompson Rivers University and the City of Kamloops into a friendly and welcoming venure for all international students.
He will be deeply missed.
Dr. Ali Albishri
Saudi Arabian Cultural Attache in Canada
---
Dr Wes Koczka has been a tremendous positive force in our International Education sector across the province and he will be sorely missed. We offer our heartfelt condolences and thoughts to family and colleagues.
British Columbia Council for International Education
---
I'm very sorry to hear that Wes has passed away. He did an amazing job in the internationalization program at TRU and significantly contributed to the development of relations with Colombian universities. I'm still in shock. Please accept my deepest sympathies for your institution and his family.
Claudia Gutierrez
Trade Commissioner
Government of Canada
---
I had the honor to know Dr. Wes Koczka personally. He was a man one could admire. Never did I see him in a bad mood; he was always kind and friendly with students. He would stop to just talk for few minutes to see how's life treating me and give his approving smile and a good word.
He used to call me the most hardworking woman on campus as he saw me either working or volunteering all the time. And he believed in me and my success. His cheering words were inspiring and made me believe that nothing is impossible.
I feel like I have lost a supporting hand… It is extremely hard to accept that Dr. Wes is not with us anymore. His death is a huge loss for TRU World and all the international students on campus.
Dikareva Tatyana
---
Our hearts go out to his family and all his colleagues at TRU. Even given the limited time I spent in Wes's company during my visit to TRU, it was clear to me that he was strongly committed to the university, had an inspired vision of the potential of international education, both for the individual student and for TRU, and was a man of deep integrity, in addition to his good humour. I know he will be greatly missed by you all.
Karen McBride
Canadian Bureau for International Education
---
Our paths crossed in many ways – from switching cities for our work; and when we met on the road, we would often talk about our respective homesickness, for him, golf & family and for me, weather & family. Coincidently, as life would have it, we discovered we enjoy many friends in common in both Victoria and Kamloops.
Wes did many great things for TRU World and worked effectively to open new markets and continue to enhance the TRU World brand, and most importantly continued to build an impressive team. One of the most notable things we shared was a common sense of pride of the TRU World team and the excellent international programs that have been held in such high regard around the globe. His leadership was key in the ongoing growth and development of TRU World, provincially, nationally and internationally.
I will be sad not to share the Beijing Concord stage with him this year and so many other events where we caught up on all the exciting initiatives of the university. I always enjoyed his unique sense of humour but was disappointed to discover he was not a great Bijou drinker!
Wes will be missed greatly in the international education world and will always be remembered not only for his strong leadership but being the "BEST DRESSED MAN" in the field. Wes was always a consummate professional.
My deepest condolences to all that have suffered this tragic loss and most of all my prayers are with his family during this most difficult time.
Cyndi Mcleod
---
Rest in Peace Dr. Wes Koczka. You will be in our heart and never forget you.
Khalid Alomar
---
I am so sad to read this news and share this sadness with TRU World and family of Dr. Wes Koczka. I ve heard about him from Tru World Team much and I ve seen him just at once at last visiting TRU World in April… we just talked a few minutes .. but I managed to feel what light and warmth proceeds from his heart…I believe that he will stay with us forever…
Polina Degtyareva
---
I won´t forget how he did the SWAG thing on orientation week, which made us all laugh and smile Rest In Peace Dr. Koczka.
Emma Brönmark Riex
---
He was so nice to give me a TRU moose at orientation. He was always so friendly. He even went on the ice with us when we practiced for the TRU hockey game. Rest in Peace Dr. Koczka!
Nadine Luetticke
---
I am at a loss for words.He had great character and a big heart. He was one of the most influential people to be around I am deeply saddened by the loss.
Sandeep Singh Sandhu
---
Our sincere condolences to the TRU World team, friends and family…. His charm and openness to innovate collaboration activities made us enjoy every minute shared with him in our meetings. He was a true Ambassador of TRU and Canada, and a role model for international education leaders.
Marcela Wolff
EAFIT, Colombia
---
Our sincere condolences to the TRU world team, Wes' family and friends. He was an amazing person and we enjoyed every meeting we had with him. All the best from Daniel & myself.
Katharina Pohl
---
I am sorry to read this sad news. I had the fortune of meeting Wes and I will remember him as a great leader, determined to his work and a great human being. My thoughts to his family and his TRU family.
Carolina Rendon,
Mexico