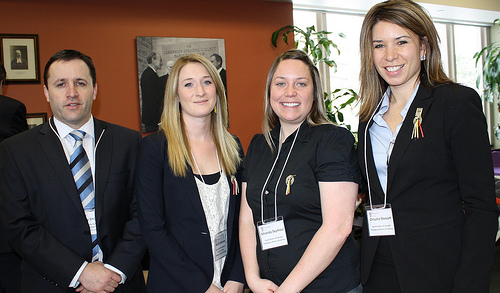 Four TRU Law students travelled to London, Ontario this past weekend to participate in the Kawaskimhon ("speaking with knowledge") Aboriginal Moot at the University of Western Ontario, Faculty of Law.
It was the nineteenth year that law students from across Canada gathered to consider a problem in Aboriginal law.
The students attempted to negotiate a consensus over 3 days in a talking circle format, drawing on indigenous approaches to dispute resolution.
It was the first national moot competition for TRU Law students and the problem was one of particular importance for Kamloops.
Former Tk'emlups te Secewepemc chief, Manny Jules, has been lobbying for legislation that would allow First Nations to choose to transfer some of their reserve lands into fee simple holdings.
The participating law students studied the legal and broader implications of the proposed change to the reserve land regime.
They then had to rely on their research and preparations at a talking circle made up of other teams of students from law schools across the country.
The negotiations produced a sophisticated discussion of the issues that impressed the coaches and observers who also gathered from across the country, deepening everyone's understanding of the complexities of the issue and of introducing changes to the current Indian Act regime.
The TRU Aboriginal Moot team was coached by Dr. Janna Promislow and consisted of second-year students Mardi Edmunds, Murray Sholty, Miranda Schmold, and Chrystie Stewart.
"We were lucky to work on this issue in Kamloops because we had access to local experts on the matter, " said Miranda Schmold.
Mardi Edmunds said, "I am so happy to have had the chance to participate in this incredible learning experience."