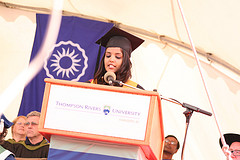 Amrita Patel, BBA
Amrita was the Valedictorian for the School of Business and Economics convocation ceremony on Thursday, June 9, 2011.
Good morning honoured guests, faculty, friends, family, and graduates! It is an honour to address this year's graduating class and represent such a diverse group of students at Thompson Rivers University's School of Business and Economics convocation.
We all came to TRU as a one man wolf pack, some of us unsure of the direction life was going to take us… but over the years as we experienced university life on our own, we met our fellow wolves – each other. We spent endless hours investing our time into group assignments, playing family feud, studying for exams and staying up until 11:59pm on a Friday night working on Dan's finance cases. Most of us could probably say that we lived in IB, checking the office hours of our professors to make sure we knew exactly what was going to be on our exam and how hard we needed to study for it.
And with that, I'd like to take the time to especially thank the unbelievably supportive faculty that has guided us on our educational path. Shahriar, thank you for being there for all of us! SIFE would be no where without you. Bernie and Heather, thank you for making the India trip one of the most amazing experiences I've had. But each and every professor that is on this stage, you have ALL made a great impact in our lives. ALL of your dedication to our success is unparalled. Thank you!
And soon enough, with the guidance of our professors and the new friends we started to meet, our wolf pack – it grew by a few more wolves. We were each alone in the wolf pack and then others joined in later.
……………………………………………………………….
Here we are now; years have gone by and today, we are accomplishing one of the greatest achievements in our lives. Today, we've surpassed all the boundaries of university, taking with us knowledge that will guide us on our future endeavours in life.
Along this journey, we've all met incredible people and have had the love and support of our amazing family and friends. It is because of these individuals that we the people we are today and the reason we have walked across this very stage. Mom and Dad, you are everything to me. My sweet nieces and nephews – you are my inspiration. To all of my friends and family – I would never have achieved this much if it wasn't for your endless love and support. Let's give a big thank you to all of our friends and family. You are all legend…. wait for it…. dary.
All of us have our own wolf pack that has lead us to success over our university life, whether it is our friends, family, or professors…. and when I was writing this speech I thought, "wait a second, could it be?" and now I know for sure. I just added all of you to my wolf pack. All of us wolves today, graduating from university, some of us beginning our careers, some of us traveling and some of us are taking another leap into the academic world. Some of us, well, we don`t know yet. Look around and see the graduates around you – this is our future – this is OUR wolf pack.
All of us have successfully completed our degree, diploma, post-bach, masters or certificate today. We all should be so proud of what we have accomplished – and remember that this is an achievement that no one can take that away from you. The famous Sean Carter once said, "Remind yourself – There's nobody built like you, you design yourself."
And so today, I congratulate you all on your success. This achievement is only a stepping stone to all that we will become on our journey called life. On behalf of the Thompson Rivers University's School of Business and Economics graduating class of June 2011, I wish you all the best in your future – congratulations to each and every one of you! Here's to us!
……………………………………………………………………………………………………………………………………………………..
---
Cynthia Schaap, Bachelor of Tourism Management
Cynthia was the Valedictorian for the School of Tourism and the Faculty of Human Social and Educational Development ceremony on June 9, 2011.
Good afternoon fellow grads, family, friends and faculty. I am proud to stand before you today and represent this year's graduating class of 2011!
When asked to be valedictorian I was shocked and honoured but then started worrying about what I was going to talk about in my speech?
Like many students I began by googling several ideas. There were numerous examples online, there were youtube clips, quotes and sample speeches. There was also information on what to include in your speech and the important subjects to touch on such as the past, the future, the friendships and the achievements we have made.
All the examples and ideas I got online sounded so mundane so I threw those ideas out the window and have decided to take this opportunity to thank everyone who has helped myself and my fellow graduates to be able to graduate and enjoy this day.
To all of our families, sitting among us today who have helped us financially, emotionally, and most importantly in motivating and supporting us to achieve our goals, we can not thank you enough. You are the driving force behind our education and futures. We will forever be indebted to you for all the time, effort and love that you have provided to us throughout our education and lives.
To our friends and classmates, who were there through the great, stressful and emotional times. The ones who became our families away from home and our drinking buddies on a bad day. To our friends, thank you, for being our new families and support networks while being in Kamloops.
To the faculty, teachers and mentors that we have met throughout our education. You gave us a hard time and made us work for our degree, diploma or certificate. But you gave us the tools we needed, you guided us and provided us with opportunities. For that we thank you as you have played a key role in helping us be who we are today.
I hope all the graduates from today will take a moment to thank everyone who has supported them, because without them who knows if we would have made it this far and not given up!
Most importantly I want to congratulate all of you! You worked so hard to be able to be here today, you've earned this celebration and its important that we all take a moment to congratulate ourselves and our fellow graduates on the past few years and all our hard work.
In closing, as Dr.Seuss would say…
You're off to great places!
Today is your day!
Your mountain is waiting,
So… get on your way!
Congratulations to the graduating class of 2011!
……………………………………………………………………………………………………………………………………………………..
---

Adam Fizer, BA
Adam was the Valedictorian for the Faculty of Arts and School of Trades ceremony on June 10, 2011.
The success we all enjoy today did not come without cost. In fact, we are gathered here to celebrate precisely because this day is so difficult to arrive at. The hours of studying, the days of preparation, the months of dedication and the years of planning we have all spent to achieve this momentous accomplishment cannot be overstated. Along with all your friends and family I congratulate you all.
Thankfully, this is not the end of our journey. It is a sign post on our paths through life. Many will say we are too small to help the world; I am here to say the world is too small, and we too talented, to not help it. We will face uncertainty and in the darkest hours be tempted to choose the path that is only advantageous to ourselves. But, I put to you that it is the actions we all undertake to support our friends, families and communities that always yield the highest rewards. Though easier to be only concerned with our own individual lives, it is also beneath us. I implore you to place trust in one another; faith in the notion we all will help each other and that the combination of our strengths will lead us into the future we all deserve.
The greatest limitations we face will only be the ones we place on ourselves. Do not undervalue yourself. The innovation needed to arrive at solutions to the most vexing problems humankind faces sits in the diverse and deep talent pool in front of me. The camaraderie gained in our educational experience has shown us that no one person can achieve greatness alone, that disappointments are easier to take together and successes are much sweater when celebrated with our friends. We go forth now not to finish projects or pass the next test, but to make substantial changes in our world. We must do what is hard in order to achieve what is great. I am not only proud but humbled to call myself a TRU graduate and to stand alongside each of you; and I am eager to see what we all can achieve.