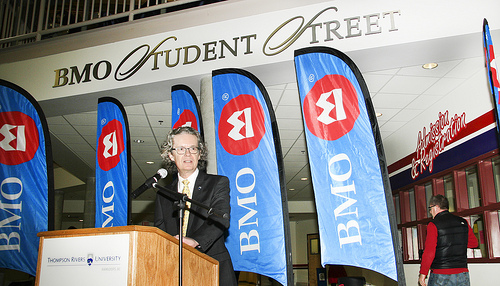 BMO Financial Group receives naming of BMO Student Street at TRU
BMO Financial Group today announced a donation of $600,000 to Thompson Rivers University to assist with the ongoing extensive renovations of the Old Main building.
The largest gift BMO has ever made in British Columbia outside of the Lower Mainland will go towards major improvements to Old Main, which hosts TRU Law and many of TRU's Student Services including the Registrar, Student Awards & Financial Aid, Counseling, Academic Advising, Health Services, and Cooperative Education.
"We are proud to recognize BMO's leadership investment and the significant contribution to our university," said Alan Shaver, TRU President and Vice-Chancellor.  "This is one area of our campus which touches each of our students; many will now begin their TRU journey on BMO Student Street."
"At BMO we believe that corporate responsibility is a journey best travelled in partnership," said Joanne Gassman, Senior Vice President, B.C. and Yukon. "Today's donation announcement to Thompson Rivers University will, we hope, continue to strengthen and grow our partnership and build on our mutual understanding that the economic, social and environmental choices we all make will positively impact the lives of potentially thousands of students."
…………………………………………………………..
WATCH CFJC TV's news story
…………………………………………………………..
BMO Student Street is part of the exciting revitalization of the Old Main building, which includes 40,000 square feet of new learning space and an entire new floor that will accommodate TRU's Faculty of Law.
The new space is an important expression of TRU's vision for the future and is part of a campuswide program of expansion and bold new buildings to meet the changing needs of our students and community.
The new floor of Old Main is expected to open by September 2013.
…………………………………………………………………………………………………………………………………………..
About BMO Financial Group in the Community
For more than 195 years, BMO Financial Group has believed in community reinvestment and corporate and social responsibility in the communities it serves. In 2011, BMO contributed more than $38.5 million in Canada and the United States to groups, organizations and programs that help build and sustain resilient, vital and healthy communities.
…………………………………………………………………………………………………………………………………………..
MEDIA CONTACTS
Christopher Seguin, Thompson Rivers University,
Cell 250-574-0474
cseguin@tru.ca
Laurie Grant, BMO Financial Group
Cell: 604-318-0735
Office: 604-665-7596
Email: laurie.grant@bmo.com