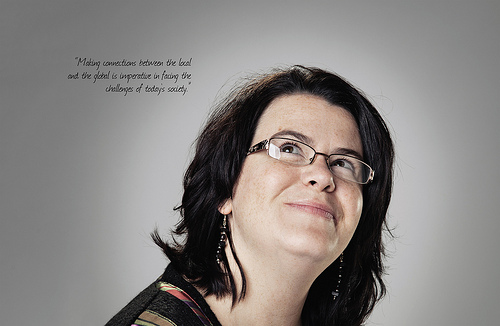 By Anita Rathje
From fires and floods to the mountain pine beetle epidemic, the effects of climate change in British Columbia can have devastating consequences for small cities and rural communities. "Climate change is the most significant environmental, social, cultural and economic threat facing humankind," states Dr. Julie Drolet in her Social Sciences and Humanities Research Council (SSHRC) public outreach project, "Community level adaptation to climate risk".
The project aims to improve the resiliency of BC communities to the impacts of climate change by sharing knowledge, increasing awareness, and developing a toolkit of strategies to help communities adapt. The experiences of affected communities in the BC Interior – Kamloops, Quesnel, Prince George, Clearwater, 100 Mile House and Merritt – are being shared as part of a knowledge mobilization plan.
"Outreach activities will network affected communities in BC, providing a community-level forum to share the innovative ways that small cities and rural communities are adapting to climate change," said Drolet, inaugural director of the Centre for International Social Work and Research at TRU and faculty member in the School of Social Work and Human Service. "This research will lead to support to build their capacity and deal with the challenges that lie ahead."
According to the BC provincial government's Climate Action Plan, parts of the province have been warming at a rate more than double the global average. The effects are well documented. Warmer winters, for example, have contributed to the spread of the mountain pine beetle, which has destroyed more than 16 million hectares of pine forest. Community narratives from Drolet's original study discussed the impacts of the mountain pine beetle on smaller communities:
"I think that our community has definitely been affected by climate change. When I moved here in the '50s we used to have -40˚C to -45˚C weather and now because we do not have that cooling weather we had a huge pine beetle infestation…that has hugely impacted our community because we've had saw mills that have closed down and many people are now unemployed," said one focus group participant.
Allysa Gredling, a community researcher from the Kamloops Women's Resource Group Society, and Yasir Ali, an undergraduate student research assistant, assisted Drolet with the analysis of data collected from 121 participants through interviews, focus group discussions, and a survey, to learn about community members' responses and adaptations to the impacts of climate change. Participants such as community leaders, activists, disaster managers, and women leaders offered opinions and positions on different subjects, as well as personal insights.
Localization, food security, community and sustainable development issues were among the topics raised in focus groups and interviews in regards to purchasing and gathering food, participating in community gardens, giving preference to local produce, developing new skills and accessing resources to adapt and mitigate the effects of climate change at the local level.
"Another impact…is that people are quite interested in local food production knowing that it's healthier and it has a smaller carbon footprint, too…there is a lot of interest in that issue and people are trying to eat more local," said one participant.
Changing food growing practices is just one way people are adapting at a community level to a changing climate. By understanding the various ways in which communities are affected and sharing adaptations, Drolet hopes communities can identify what kind of capacity and support is needed. The knowledge gained from the project, developed into a toolkit to share among stakeholders and presented by Drolet at international conferences, will inform emergency service volunteers, policy makers, planners and managers, health professionals, community members, educators, public and private sector executives, emergency responders, the academic community, and the general public.