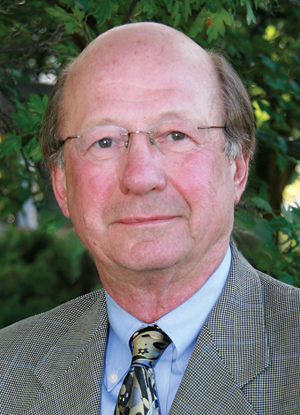 Honorary title to be bestowed on the President
who has gone beyond expectations
Roger H. Barnsley, whose 11-years as President and Vice-Chancellor at Thompson Rivers University and the University College of the Cariboo was distinguished by growth and stability, the expansion of international programs and the transformation into a full-status university, will be named as TRU's first President Emeritus during the October 8th Convocation.
Dr. Barnsley was appointed President of UCC in 1998, since then he has overseen the transformation of a university college into TRU, created by the amalgamation of UCC and the British Columbia Open University in 2005.
"Roger is well recognized throughout the province for leading a university that is known for its tremendous growth," said Karl deBruijn, TRU Board Chair. "Through it all, he has fostered a culture that remains focused on students and their access to quality education, all attributes that warrant his recognition as TRU's first President Emeritus."
TRU is now the fourth-largest university in the province, which is also one of, if not the most, comprehensive universities in the nation. His administration has overseen the most ambitious capital-spending program in the history of the Kamloops and Williams Lake campuses. In addition there has been major growth in the scope of international activities, including the implementation of Study Abroad and the addition of master degree programs. Today, TRU offers students almost 200 different certificate, diploma and degree options.
Dr. Barnsley has worked as a university professor and administrator in six provinces, including 11 years as president of Thompson Rivers University. In 2009-2010 he returned to TRU on an interim basis as President. Previously, he was a professor and vice-president (academic) with St. Thomas University in New Brunswick. Dr. Barnsley was the recipient of the Queen's Golden Jubilee Award for his contributions to post-secondary education and honorary doctorate degree from St. John's University in Bangkok, Thailand. In 2008 Roger received the City of Kamloops Pioneer Spirit Award and the President's Award from the Chamber of Commerce.
Dr. Barnsley has a strong connection to British Columbia, having grown up in the Kootenay community of Trail, graduating from J.L Crowe Secondary School there, and earning his Bachelor of Arts (Honours) in Psychology from the University of Victoria. His Master of Arts and his Doctorate in Psychology are from McGill University. He is a fellow of the Canadian Psychological Association.
An honorary title, President Emeritus recognizes that the individual has gone beyond the expectations of the description of the president position held while at TRU. The honour is bestowed following retirement of a president who has provided service to TRU over a sufficient period and has come to be clearly identified with Thompson Rivers University.
For more information
please contact:
Mr. Karl deBruijn, TRU Board of Governors Chair
(p) 250-828-5318