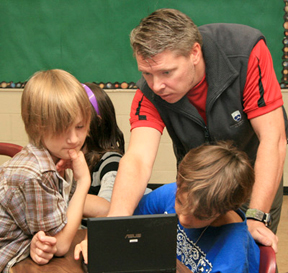 A Thompson Rivers University Master of Education Kamloops teacher won a national award Monday for his outstanding contribution to Canada's future by teaching with technology at an inner-city school.
Wes Mueller received one of this year's 84 Prime Minister's Awards for Teaching Excellence and Excellence in Early Childhood Education. The Awards were presented at a ceremony in Ottawa on the occasion of World Teachers' Day.
Arthur Hatton elementary principal Gloria Hall nominated Mueller, the Grade 6 and 7 teacher who was responsible for a pilot program involving use of smart boards and laptop computers at the school.
The project started in 2007 when Mueller and Norm Walker, School District 73's technology co-ordinator developed a plan for a laptop and smart board pilot project.
Wes Mueller helps Nolan Debeuckelaere (left) and Josh Kent during an impromptu writing assignment.
Below: Brandon Mernickle (foreground), Arlean Galbraith and others type on the mini-laptops.
Second photo below: Joshua Edgar (left) and Kienen Campbell collaborate on a project.
Shortly after launching the project, Mueller was accepted to the Master of Education program at TRU. His focus is on global citizenship through technology. His students at Arthur Hatton Elementary are connecting with other classrooms in San Jose, Texas, Adelaide Australia and in New Zealand to talk about common issues, including climate change.
His thesis is supervised by Dr. Norm Friesen, CRC in E-Learning Practices at TRU.
"We use smart boards (they look like traditional white boards but are connected to the web and feature touch screens where images can be dragged), wireless clickers for inactive question and answer periods, small lap-tops and "a ton of Web 2.0" Mueller said.
"There is lots of one-to-one interaction with the students, they do collaborative online learning and enjoy using these great new teaching tools," Hall said. "We are finding that the technology is enriching the student's learning experiences."
The school's parent advisory council thought so tooThey were also impressed with how excited the students were about classes, noting that absenteeism dropped dramatically. Attendance was up 50 per cent over the previous non-tech teaching year. The PAC helped fund four other smart boards for the school along with support from a Kamloops Rotary club.
"The most significant thing was attendance. We had 50 per cent higher attendance one year to the next."
With the $1,000 award that comes with the recognition Mueller expects to purchase more clickers.
In the meantime Mueller will continue preparing to defend his thesis in December with a goal to Convocate in June 2010 with his third TRU credential. "Doing my masters at TRU made sense," Mueller said. "I had completed a BA majoring in history and geography and then a BEd, I didn't hesitate to join the first class of the Masters of Education in 2007."
He has found the program to be flexible and suites his work schedule. As his research piggybacks into action he said, "It is very exciting applying my research in the classroom and getting these young students engaged in learning in a whole new way and connecting with people around the world."
This year 84 Prime Minister's Awards were presented to educators from across Canada, The awards include certificates of excellence and certificates of achievement for teaching excellence at all grade levels, from preschool through to secondary school, All winners were recognized by parents and fellow educators as leaders who have been innovative in helping students excel.
What do the students think?
Kienen Campbell is having a lot of fun this school year as a Grade 6 student in Mr. Mueller's class.
"I love it (the technology) because it makes learning so easy; it makes school so easy."
How so?
"I don't get finger cramps from having to write," he says of using mini-laptops to write reports and other assignments"The keys are small so that I can type fastI like this (the laptop) because if you don't want to write with a pen, you can type instead. This way you're doing your work and using the technology at the same time."
And the real payoff? Kienen actually likes coming to school, whereas before, different story. Before he couldn't wait to get out of class. Today, he can't wait to get back in.
"I was pretty stoked the night before school; I was excited to come to school," Kienen recalls of the last few hours of summer vacation
Malik Florence-Clark is in Grade 7 and before this year, wasn't a big fan of school. That changed, however, on the first day back when he learned he was being assigned to Mr. Mueller's class.
"I really wasn't looking forward to class at all until I found out I was going to be in this class," Malik says. "I really like being in this class."
As the students offer up their comments, a common theme arises: they prefer typing over writing with a pen or pencil.
"I can type faster than I can write," says Jade Isaac, who was in Mr. Mueller's class last year as a Grade 5 student"Because I can type, I'm not messing with my writing." Jade much prefers handing in assignments that are not only legible to her, but to her teachers as well.