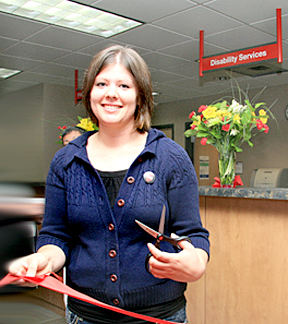 Natalie Reisle, TRU Student Union Vice-President External, recreates the official ribbon cutting to open the new Student Services Centre.
Thompson Rivers University officially opened its new Student Services Centre in OM1631 with a with a Ribbon Cutting Ceremony and Open House on Tuesday, September 15th, 2009 at 10:00 am. The new Student Services Centre, located on the first floor of Old Main, across from the Finance Department clusters together many of the university's existing services to students
"We are moving towards a one-stop shopping model for our students, to provide them optimum service, " said Peter Hilton, Vice-Provost, Students. "Having many of the student services together on the first floor of Old Main will help us help our students."
The new Student Services Centre is the home of Financial Aid and Awards, Disability Services, Counselling and the Office of the Vice-Provost, Students, and will now be in close proximity to other services such as Academic Advising, Finance, Career Education (including Co-op and the Student Employment Office), Aboriginal Education, the Registrar's Office (including Admissions, Records and Registrations, as well as Tim Horton's.
The 7,000 square foot renovation took place over the summer. The unused board room at OM1611 was converted into 7 new offices with an additional testing space for students with disabilities. The entire reception area was renovated so students can flow through the space more comfortably as they access key services.
"This area will be the heart and pulse of the University, and already this year, it has been a hive of student activity," said a satisfied Hilton.
Contact: Peter Hilton, TRU Vice-Provost Students, (p) 250.828-5019, (e)philton@tru.ca